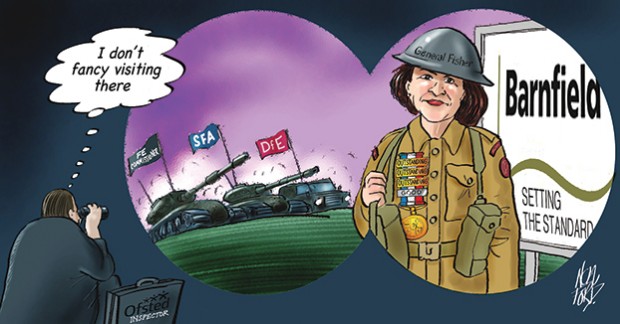 Dame Jackie Fisher has defended new employer Barnfield Federation amid claims it got £1m of government funding for learners it had no record of teaching.
Within days of Dame Jackie taking over as chief executive of the Bedfordshire-based federation last week, it emerged official reports in which the claims were made had been passed onto police.
A Hertfordshire Police spokesperson said it was looking into "what, if any, crimes have been committed".
There is much to do but we are all working hard and pulling together to rapidly put in place our plans for improvement.
But Dame Jackie, who notoriously kicked Ofsted out mid inspection two years ago while she was chief executive of NCG (formerly Newcastle College Group), told FE Week: "I am very pleased to have been invited to be chief executive of the Barnfield Federation.
"There is much to do but we are all working hard and pulling together to rapidly put in place our plans for improvement.
"There are excellent activities taking place in the college and the academies and we continue to focus on providing excellent educational experiences for all young people."
The reports with officers had been drawn up by the Skills Funding Agency (SFA) and the Education Funding Agency, who had both investigated the federation, which includes Barnfield College, after allegations of financial mismanagement and grade massaging.
The funding agencies' findings have not been made public on advice from police, according to a government spokesperson on behalf of the Department for Business, Innovation and Skills and the Department for Education.
She said: "This investigation has now concluded and the reports have been passed to the police. The police have advised us not to publish the reports until they have concluded their assessment."
However, the BBC claims to have seen the SFA report, saying the number of hours of learning claimed by Barnfield did not match registers, meaning the college was overpaid.
The claim for 16 the 18-year-olds was therefore reduced by £464,176 and by £477,000 for the adult skills budget.
The Hertfordshire Police spokesperson said: "We are assessing the reports but at this point in time an investigation into a crime has not begun. We are at this point assessing what, if any, crimes have been committed."
Interim chief executive Dame Jackie, who led NCG to three outstanding Ofsted grades plus one at good, replaced interims Helen Mayhew and Stephen Hall who stepped in after federation founder and director general Sir Peter Birkett left in August.
He later became chief executive of GEMS Education, but quit the international school operator late last year with the funding agencies' probes under way, saying: "In order that this issue does not become an undue distraction for my colleagues and the work of GEMS Education I have decided to resign from my position."
The college was also visited by the FE Commissioner David Collins last month, and his report is due soon. In a letter to Labour's Luton South MP, Gavin Shuker, Skills Minister Matthew Hancock last year said the commissioner would review the federation leaderships's "capacity and capability" to bring in "financial control improvements within an acceptable timescale".
A spokesperson for the federation, which according to its website, also includes four academies and a free school, declined to comment on the agencies' reports.
Sir Peter has been reported in local media as declining to comment until the reports were published.