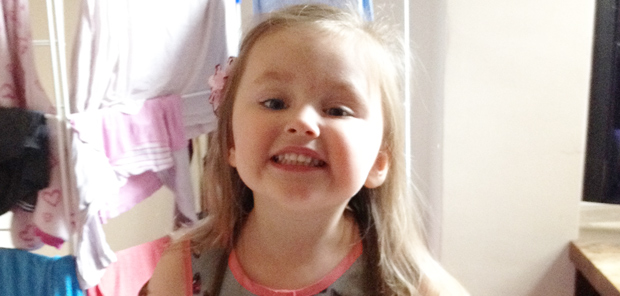 York College has been fined £175,000 over the death of a three-year-old girl who got her neck caught in a rope at the college nursery in September 2012.
It was also ordered to pay £45,000 in court costs over the death of Lydia Bishop (pictured), who became entangled while going down a slide on her first day at the nursery.
Leeds Crown Court jurors found York College guilty last week of health and safety breaches relating to the tragedy.
The judge, Mr Justice Coulson, sentencing the college today, said: "A child is priceless, so the loss of a child is an irredeemable loss."
He also paid tribute to Lydia's distraught family, including mother Rebecca Dick, saying they had behaved with "dignity and restraint" throughout the three-week trial, which ended last week.
The court had heard safety measures to stop children using ropes alone or going unsupervised to a slide had not been enforced.
It emerged that the rope that had been left tied to the slide against health and safety policy.
The college was found guilty of failing to ensure the safety of babies, toddlers and pre-school children at its nursery between August 1 and September 18, 2012.
Lydia had been at the nursery with her mother having just enrolled on a course at the college.
York College principal Alison Birkinshaw said: "We remain deeply saddened by the events of September 17, 2012, and know that no family can ever recover from the death of a child.
"Nothing can reduce the pain felt by Lydia's family and we are truly sorry for what has happened.  Lydia and her family will be forever in our thoughts.
"We remain committed to learning from these tragic events and took the difficult decision to close the nursery permanently immediately after the tragedy.
"While the nursery was separate from the college, we also brought in the British Safety Council to conduct a full inspection of health and safety implementation across all college sites.
"As noted by the judge in his closing sentencing remarks: 'The college has taken a number of steps to ensure that this sort of accident could not happen again.'
"We would like to thank the local community for the support shown to everyone affected by these terrible events."
Nursery worker Sophee Redhead, aged 25, from York, was cleared of the charges against her at the end of the trial. She had been accused of manslaughter by gross negligence and faced an alternative charge of failing to ensure Lydia's health and safety.
Speaking at the end of the trial last week, Detective Chief Inspector Nigel Costello, of North Yorkshire Police, said: "This was an extremely tragic case for all concerned, not least for Lydia's family who have been left devastated by the loss of their daughter.
"It is only right that a full investigation into her death was conducted to provide her family with some answers and to establish if there was a criminal case to answer.
"Unfortunately, it has taken the death of a three-year-old girl to expose the flaws in their health and safety practices and I hope this case serves as a warning to other organisations that it isn't enough to just have a procedure written down."