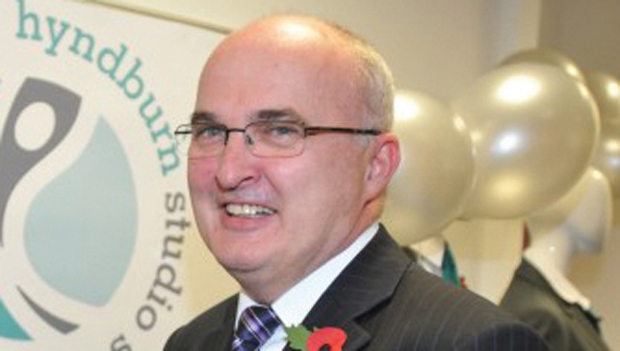 The principal of a Greater Manchester college is to take early retirement after it dropped from outstanding to inadequate in six years.
Stephen Carlisle (pictured) is to "work from home"  for the remainder of his contract at Stockport College. He is expected to be replaced by former Blackburn College principal Ian Clinton.
It comes four months after the 9,000 learner college was given a grade four rating from Ofsted before FE Commissioner David Collins hit it with administered status, stripping the leadership of staffing and finance powers.
An Ofsted monitoring visit report in December then blamed the college action plan for slow improvement.
A Stockport College spokesperson confirmed to FE Week that Mr Carlisle, who had served as principal since November 2012, was leaving and that his replacement had been named.
She said: "The agreement is that Stephen Carlisle has decided to take early retirement from March 31.
"For the period in between now and then he will be working from home and supporting the college and its interim principal."
Stockport College, which has a current Skills Funding Agency allocation of just under £8.2m, achieved the highest possible rating in 2007, but fell to grade four following a visit by the education watchdog last October.
The college was hit with inadequate ratings across each of the headline fields and told it needed to "rapidly improve the quality of teaching, learning and assessment".
The report said "too many" learners left without achieving their qualifications and attendance was low with many students arriving late to lessons.
"Leaders have not acted quickly to reverse the significant decline in student achievement," it further said in the report, adding that quality assurance arrangements and self-assessment were "weak" and that the "quality of much of the accommodation and many resources is poor".
Mr Carlisle said after the report: "We won't regress from this report and as many of the weaknesses had already been identified through our self-assessment process, we are well under way at making the changes needed".
The college, which has an Education Funding Agency allocation of £12.7m, had already been issued with a financial notice of concern from the Skills Funding Agency before the Ofsted report.
Its financial problems include the 2011 axing of the second phase of a £100m rebuild after the Learning and Skills Council programme collapsed, despite the college already having invested £4m.
Mr Clinton took over at Blackburn College in 2004 and left at the end of last year. His college was rated outstanding in January 2008 following its most recent Ofsted inspection.
Mr Carlisle became principal at Stockport in November 2012 after a five-year spell in charge at Accrington & Rossendale College, where he had already been deputy principal for five years, achieving an outstanding grade in mid-2009. He was not available for comment.