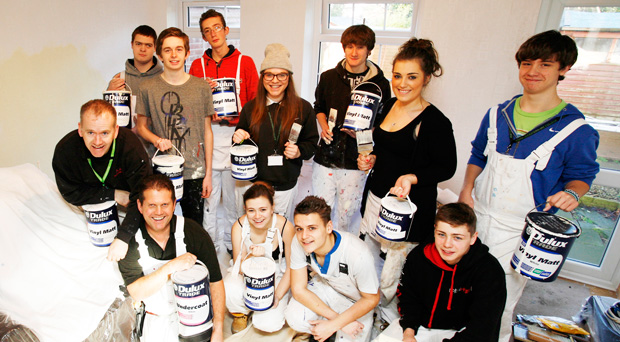 Students from South Leicestershire College have transformed many dilapidated rooms and community facilities since they launched a DIY SOS scheme three years ago. But the current team was presented with one of its biggest challenges yet when asked to repaint an entire house for twins whose mother died of cancer five months ago, writes Paul Offord.
Finding valuable work experience for students can be a challenge for providers, but South Leicestershire College is managing to find jobs that are both challenging and worthwhile.
Duncan MacColl, construction project manager at the college, launched a DIY SOS scheme three years ago where the college advertises for worthy causes in need of a helping hand.
His learners do all the painting or construction work for free, gaining in return realistic and invaluable work experience.
The latest project was one of their biggest challenges yet and involved 14 students spending three days re-decorating every room in a two-bedroom house.
It belongs to 24-year-old Ionuts Langham, who came to the UK 20 years ago along with twin brother Dumitru.
Suffering learning difficulties and cleft lips and palates, they were adopted from a Romanian orphanage by children's homes fundraiser Ruth Langham, who helped Ionuts buy the house three years ago.
The house, in Coalville, Leicestershire, had been rented out since it was purchased while Ionuts and Dumitru continued living with Ruth, who died of cancer in October last year, aged 42.
Andy Sarson, a family friend and former painting and decorating lecturer at Leicester College, contacted Mr MacColl to ask if his students could help re-decorate Ionuts's house, which had suffered at the hands of uncaring tenants.
The students filled and rubbed down all the walls and ceilings, applied wallpaper to the lounge and one large wall in a bedroom, and painted all the other ceilings and walls.
They also applied undercoat and gloss to all the doors and skirting.
Mr Sarson said: "I promised Ruth before she died that if there was any decorating to be done, I would organise it and the college thankfully stepped in.
"Now the lads are very settled in and their [adoptive] grandparents live just around the corner. It's wonderful."
The twins' grandfather, John, said: "The students have done a fantastic job and it was nice to hear them say how much they enjoyed these projects."
The work of the students means a place to call home for Ionuts, a cleaner at East Midlands Airport, and Dumitru, who works as a technician at Melton College having recently completed a media studies degree there.
Painting and decorating student Jordan Buckley, 17, said: "It was really nice to be able to use my painting skills to help people as deserving as the twins."
Mr MacColl said: "The look on the twins' faces when they saw all that the students had done was really special."
Around 100 construction, carpentry, brick-laying, and painting and decorating students have worked on a variety of the college's DIY SOS projects.
These have ranged from building a disabled access ramp for Kirby Muxloe Cricket Club, in Leicestershire, and re-painting a bar in Saffron Lane Working Man's Club, in Leicester, to decorating a room which was home to an 80-year-old woman in a care home in Wigston, Leicestershire.
Mr MacColl said: "I thought there are a lot of people out there who need jobs done but can't afford it.
"The work experience also counts towards the students' end-mark for their NVQ or diploma qualifications, so it works well both ways."
Cap for main image: From left: Painting and decorating tutor Kevin Croft and family friend Andy Sarson (kneeling down) with students at Ionuts Langham's house