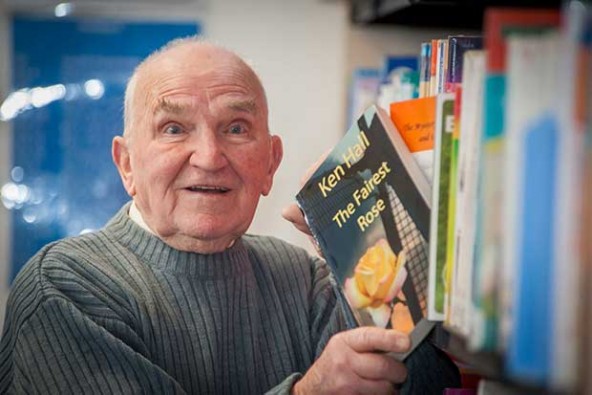 Grandfather-of-two Ken Hall would daydream about becoming a children's author while working as an engineer in the rough and ready setting of a Sunderland docks.
His hopes for a different life were thwarted by the lack of a typewriter and the fact he struggled with handwriting.
But, having retired and returned to the classroom at the age of 78, Ken, now aged 89, mastered the word processor and so began his journey to a new career.
He said: "I have a saying that people who believe that they are too old to read a children's fairy story are very old indeed.
"People who believe they are too old to learn new skills are also very old indeed, and I was glad to be able to show that college is not just a place for young people.
"The college courses I completed helped me turn what was a hobby and a lifelong ambition into a reality."
Ken took a level one computer course at Sunderland College, where he was taught how to use Microsoft packages, including Word, and the internet.
He progressed to a level two computer studies course, which he completed before his 81st birthday. And the Sunderland pensioner has been busy ever since, typing up short stories, novels and poems, which are mostly for children.
Some of the first people to hear Ken's stories were children from Hill View Infant School, in Sunderland, said his 53-year-old daughter, Kris, an information technology college lecturer.
She said: "He had some of his stories made into books for family and friends to read, which he would go in and read to the local school kids, who really loved them. My mum, Mavis [79], also took some to a primary school in Broadway, Worcestershire, and a family friend took them overseas to a school in Australia.
"The head teachers from both schools sent him letters saying how much the children liked the stories, so we thought he was onto something."
Ken, who spent most of his working life as an engineer at TW Greenwell dry dock, in Sunderland, has now completed two novels, eight shorter children's stories, and many poems.
Kris said: "The stories are brilliant. The first one was a short-story called Willie and Patch about a boy and his dog. That ended up as the first chapter of a much longer adventure story, called the Sword and the Shield. Another of his books for people of any age, called the Fairest Rose, is about a young woman who was trapped in Germany at the outbreak of the Second World War and became a spy for the British and Americans.
"Those who have been lucky enough to read proof-copies of the book haven't been able to put it down."
Ken, who also keeps busy through keeping pigeons, returned to the college recently to thank his lecturers. He said: "I never thought that, in my 70s and 80s, I would be able to learn new skills, but it has been great."
His work is currently being poof-read and Ken plans to get his stories published on Kindle through amazon.co.uk and through lulu.com for printed books. Grandson Christopher, 30, has also designed a website — www.kenhallbooks.co.uk — to publicise his work.
Do you know of any FE and skills learners older than Ken? Email campus@feweek.co.uk to let us know.