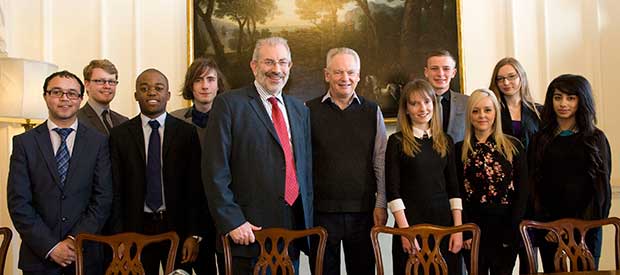 Young people on the Civil Service's fast-track apprenticeship scheme met Cabinet Office minister Francis Maude.
The minister met existing apprentices at the Cabinet Office, in Whitehall, London, during an event to publicise plans to double the number of places on the scheme, which gives 18 to 21-year-olds the chance to work at the heart of government.
The scheme was introduced last year, when 100 18 to 21-year-olds were placed in departments to learn on the job.
This year, the government claims it will offer 200 permanent posts to school-leavers from September.
The aim is to eventually increase the figure to 500, which would match the number of university graduates taken on each year through the Civil Service's graduate fast-stream scheme.
Mr Maude said: "The apprenticeship scheme will sit alongside our popular graduate scheme ensuring we draw the widest pool of talent into the Civil Service."