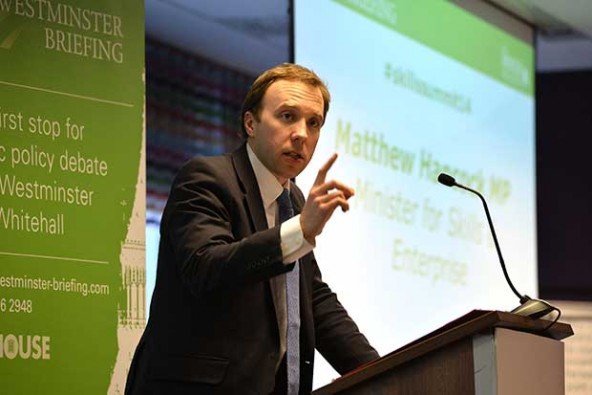 The nuclear industry looks set to benefit from the country's second new college in 21 years, Skills Minister Matthew Hancock has announced.
Speaking at the PoliticsHome Skills Summit in London today, he said the college could "provide the specialist, advanced skills" for the industry.
It comes just weeks after the government unveiled proposals to create a new college, the first since colleges were incorporated in 1993, to support the engineering skills needed for the new HS2 rail project.
"In the next 20 years, some £930bn will be spent across the world on new reactors — and £250bn on decommissioning old ones. In Britain alone, 40,000 jobs could be created," said Mr Hancock.
"So the new college will build on the industry's work — and provide the specialist, advanced skills to meet that demand — and then sell that expertise to the world."
Humphrey Cadoux-Hudson, manager director of EDF Energy New Nuclear Build, said: "Today's announcement of a proposed elite college for nuclear skills is an important step forward for the UK and its nuclear future.
"The college would offer quality technical vocational training and a route to higher education qualifications in a nuclear industry which is growing here in the UK and around the world.
"EDF Energy has a long and successful track record of working with further and higher education colleges to develop the skills it needs in its existing and planned nuclear power stations. This initiative will help generate jobs and skills, allowing the UK to benefit fully from the massive investment being made in new nuclear power."
The minister also laid out plans to develop a software engineering college to respond to the needs of the information technology sector and was expected to speak about a new £18m Manufacturing Training Centre, in Coventry.
It would provide advanced, four-year apprenticeships in areas such as automation, additive layering, laser machining, offering international placements with the best engineering firms.
A spokesperson for the Department for Business, Innovation and Skills was unable to give details of the estimated cost or site of the new nuclear college. No details of the site of the proposed HS2 college have been released yet either.
Read edition 91 of FE Week for more on the nuclear college proposal and for coverage of the Skills Summit, featuring the results of the UK Commission for Employment and Skills's Employer Skills Survey.