Michelin-starred chef backs traineeships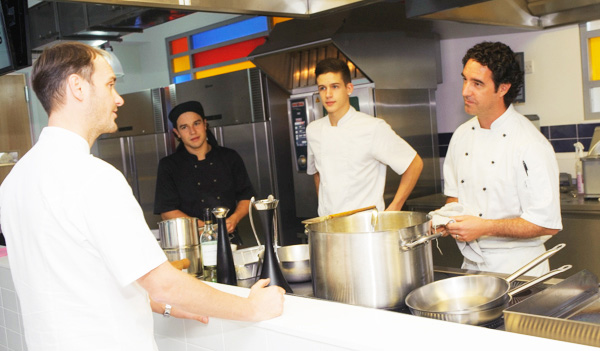 Michelin-starred chef Jason Atherton was guest of honour at a ceremony to mark the launch of a new hospitality and catering traineeship scheme by independent learning provider Hospitality Industry Training (HIT).
Mr Atherton, who runs awardwinning London restaurant Pollen Street Social, met with students during the event at Hospitality House, in London. The top chef was keen to throw his support behind HIT's new trainseeships, as he started his career through the YTS (Youth Training Scheme) in the 1980s.
He said: "The great thing about the hospitality industry is that if you can show some passion and flair, you can go far. It's crucial that young people are given the opportunity to get into this amazing industry. Traineeships like this enable people like me to take young people into the kitchen and give them a chance to grow."
Cap: From left: Jason Atherton with HIT apprentices Jacobo Ameijenda, aged 27, and Ryan Hazell, 18, and HIT assessor Derren Mallet