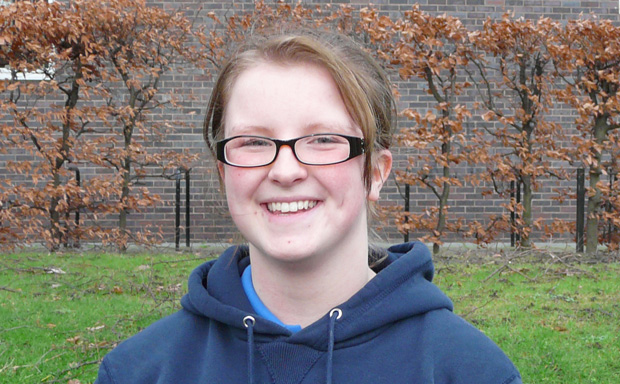 Teenager McAyla Johnston could not move a muscle when she woke up from a ten-day coma.
She had suffered severe head injuries after being hit by a car while crossing a road in Worcester in 2008.
Five years later and the 16-year-old excels at the javelin, shotput and discus to the extent that she harbours hopes of competing at the 2016 Rio Paralympics.
"Competing in the Paralympics really would be a dream come true," she told FE Week.
 McAyla, who is studying a level two diploma in sports at Worcester College of Technology, had to relearn how to eat, drink, read, write and walk after her terrible injuries.
And the lifelong sports fanatic noticed strength was returning faster to her upper body than legs, so decided to try out disabled athletics in 2009.
She won gold in all three events in the under-16 cerebral palsy Sport National Championships four years later. McAyla was allowed to compete in the competition as her walking difficulties are similar to those suffered by people with cerebral palsy.
She has now been selected for an elite training session at Loughborough University next month. It is organised by government agency Girls 4 Gold Disability Athletics, which aims to fast-track female athletes for Rio.
McAyla said: "I probably wouldn't have believed it if someone had told me I would be in the running to go the Paralympics after I woke up from the coma. When I first came round, I was aware of what was going on around me but couldn't talk or move.
"It took two months before I took my first step. I started getting use back of my upper body at around the same time and it turned out my arms were stronger than my legs.
"My arms have also been strengthened by things like pushing the wheels of my wheelchair around. I have always been a confident person and that hasn't changed since the accident. I think that has helped me push myself with my recovery."
McAyla could compete in the F37 Paralympics category, for athletes who can stand but have mobility problems, and her events all involve throwing from a standing position.
She credits mum Teresa, aged 43, dad David, 45, and sister Cortni, 10, with giving her the confidence to compete.
She also credits sports lecturer Stewart Colmer for advising her to apply to Girls 4 Gold Disability Athletics. During the training session at Loughborough University on February 1, McAyla will be put through a series of fitness tests and training sessions.
McAyla would not be worried about the national attention likely to come her way if she made it to the Paralympics, having already appeared on national television when she was presented the Daily Mirror's Pride of Britain Teenager of Courage award in 2011 by David Beckham.
She was also chosen to carry the Olympic torch through Worcester ahead of the London Olympics and Paralympics in 2012. She said: "That was a pretty amazing experience. It gave me a little bit of a taste of what it could be like in Rio, although I know there will be a lot more people at the Paralympics and being cheered on while competing for my country would be a million times better."
Cap for main pic: McAyla Johnston outside Worcester College of Technology