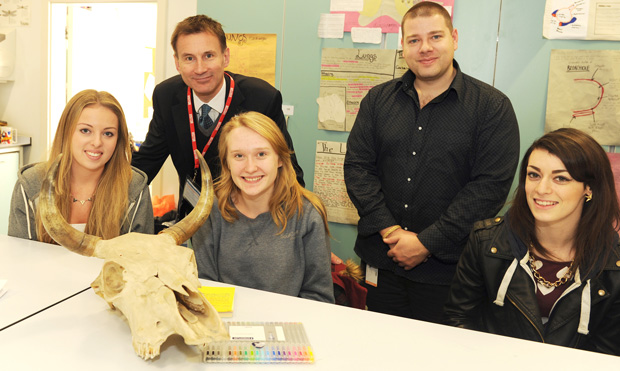 NHS boss Jeremy Hunt gave Farnham Sixth Form College a clean bill of health after being shown around the site.
The Health Secretary, who is also South West Surrey's Tory MP, met principal Mike Potter and college director Jonathan Stewart during his visit.
Mr Hunt was full of praise for the college after being shown around its new music technology studio, which cost £125,000 to build and opened in October
last year. He was also shown around the biology and chemistry labs.
Mr Hunt said: "Speaking to Mike Potter about his aspirations, it is clear that at the heart of his vision lies his determination for every student to reach their potential."
Cap: Rear, from left: Health Secretary Jeremy Hunt and head of biology Jason Rynn with science students Daisy Middleton, Rachael Speed, and Meghan Glue, all aged 17