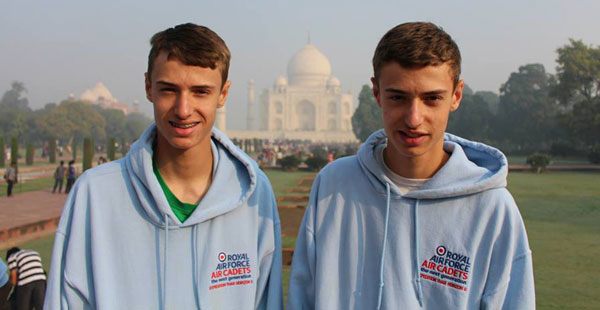 Painting a school in an Indian desert may not be every college 16-year-old's idea of a dream holiday, but brothers Lewis and Eliot Coble thought it beat lounging around on a beach in Spain.
The twins, from Chafford Hundred, Essex, were allowed time off from their A-level studies to travel to Bikaner, a small town in the Thar Desert, North West India.
The students from Palmer's College, in Grays, Essex, spent three days re-painting a local primary school as part of a team of 20 British youngsters.
Lewis said: "The school was literally a box of a building made of concrete with nothing much in it. They didn't have access to the internet, chairs or even desks.
"The children sat on the floor to study and they weren't taught by a qualified teacher — it was just people from the town who would come in and teach them as much as they could. It makes you think about how lucky we are to have computers and so much modern technology in classrooms in this country."
The brothers found the experience rewarding despite having to work most of the time in temperatures above 30C (86F).
"You can have fun on a beach holiday somewhere like Spain, but it doesn't compare to what you see and learn on a trip like the one we went on," said Lewis.
Eliot said: "It was really hot, but no-one minded because we were having such a good time together. We got a good suntan.
"It felt great when I thought about how the school looked before and how it looked after we'd finished. There was no doubt we'd made a big difference."
The twins painted the outside of the school plain white, but, added Lewis: "We painted things like palm trees on the white walls indoors, and a house with children in it, a large world map, and a space rocket with planets around it."
Mark Vinall, principal of Palmer's College, said he was proud his students' efforts to help improve learning conditions for Indian pupils. He said: "Community service, locally and internationally, is an essential part of a Palmer's education and Lewis and Eliot are a terrific example of this commitment in action."
After the twins had finished at the school, they were taken on safari riding camels across the Thar Desert.They also visited Indian landmarks including the Taj Mahal and moghul forts in Jodhpur and Jaipur.
Eliot said: "I didn't really know what to expect from India, but it's an amazing country. The Taj Mahal and all the sights were unbelievable. We also saw quite a few elephants on the side of the road as were driving along. Cows are sacred and you just see them everywhere walking the streets — no one stops them."
After their incredible experiences in the desert, Lewis and Eliot admitted they were happy to return home and see brother Daniel, aged 21, and parents Joanne, 42, and Barry, 45.
The trip was organised by the twins' 282 Squadron East Ham air cadets and cost £1,600 each.
Lewis and Eliot raised more than £500 to help pay for their travel and accommodation through being sponsored to travel to every station on the London Underground within two days.
The remaining cost was covered by the squadron.
Main image: Lewis and Eliot Coble outside the Taj Mahal