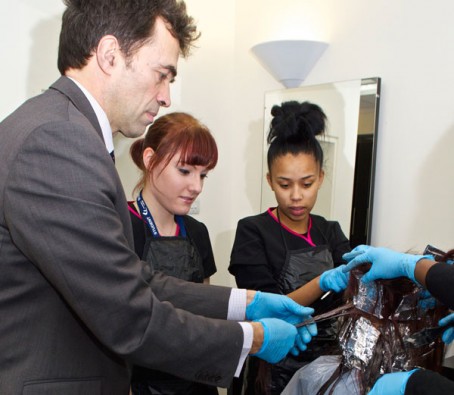 Apprentices hairdressers were dyeing' to show-off the skills they have learned to Carshalton and Wallington MP Tom Brake.
The Liberal Democrat MP met learners training in hairdressing, hospitality and catering, motor vehicle repairs, and accounting, during a visit to Carshalton College.
He even helped level two      hairdressing NVQ apprenticeship students Shanley King, aged 17, and Abigail Machin, 18, to apply dye to another woman's hair.
The students made sure the MP wore gloves and explained to him how to apply colour.
They also demonstrated the benefits of massaging a client's scalp as the dye is applied.
Abigail said: "It was actually the first colour correction we had ever worked on as a team, which was great fun."
Mr Brake said: "It was great to meet the apprentices and experience first-hand how they gain their skills and knowledge.
"Apprenticeships are a great way for students to start their career."
Main pic: Students Shanley King and Abigail Machin applying colour to a woman's hair with MP Tom Brake