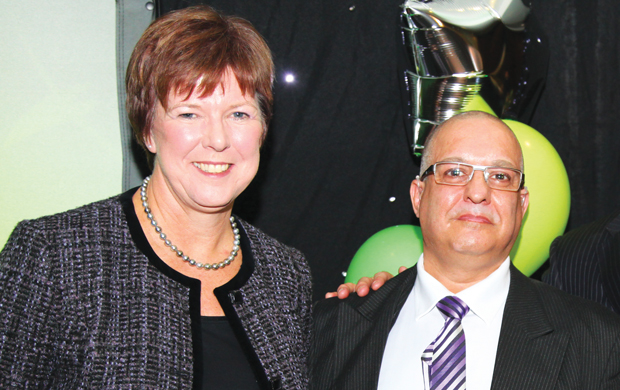 Mature student Billy Plimbley recalled most of his teachers thought he was either "thick" or simply not paying attention at school. It was only after he enrolled South Leicestershire College more than 30 years later that he discovered his problems had been caused by dyslexia, writes Paul Offord.
eading blue letters against a black background might sound like a headache-inducing task to most, but for 51-year-old Billy Plimbley it has proved his ticket to an English education.
Billy, from South Wigston, in the Midlands, registered for a level one English functional skills course at nearby South Leicestershire College in 2012.
Despite being a capable student, lecturer Karen Gregson noticed the dad-of-two found reading difficult.
"She saw there was a problem," said former bus driver Billy.
"She offered to carry out some tests and found that I was dyslexic. Then she set about finding what help I needed.
"It was taking me an awful long time to read. They tried different coloured transparent screens for me to read through.
"It turned out I can read best when there are black letters on a blue background."
He went on to pass level one easily and then level two within a year.
College bosses were so impressed with his progress that they named him English
student of the year at the recent South Leicestershire College student star
awards.
He said: "Now I would like to eventually do a degree and go on to teach people with similar problems to myself in a college."
He added: "Dyslexia was pretty much unheard of when I left school in 1978. I scraped through most of my CSEs with the lowest possible pass marks and was always playing catch-up. The teachers would say I wasn't listening or paying attention, or that I was deliberately being thick."
Mrs Gregson said: "Billy had a bad time at school and would assume he couldn't do things at the start."But I noticed that while Billy answered questions very well, he was struggling to read. There was obviously a discrepancy there, so we did some tests on him."
She added: "He grew and grew in confidence after that and was so enthusiastic, which inspired everyone else in his classes to do the best they could too."
Billy hardly read any novels before he was diagnosed, but now places his blue transparent screen over the pages to help him understand what's on the pages.
He said: "I used to read a bit at school but gave up when I started work. Now my nose is hardly ever out of a book."
Billy, who is father to Kyle, 21, and Melissa, 22, spent his working life in a variety of jobs in the catering sector, as a builder's labourer, and driving buses.
He said: "I was made redundant as a bus driver and there were no vacancies around at the time. I decided I was going to use my time off productively and try and prove everyone who said I was thick wrong by going back to college.
"It has done me such a lot of good to find out I'm dyslexic and that's the reason why I struggled to read and write. Now it's hard to believe I'm student of the year."
Main photo: Marion Plant, principal of South Leicestershire College, and Billy Plimbley after he was given the student of the year award