Local employer needs are not being met by the FE and skills sector, according to this year's Ofsted annual report.
Despite higher expectations of students and improved teaching and learning providing "grounds for optimism" about the sector, it was delivering "too much provision that is not responsive to local employment needs".
"This provision is therefore inappropriate for young people, regardless of the quality of teaching," said the report, launched on Wednesday (December 11).
It said there was no structure, accountability measure or system of incentives to ensure that FE and skills provision adapted to local economic and social needs.
"If the government is committed to raising employment through better skills and to secure economic competitiveness, it will need to fill this gap in strategic accountability urgently," said the report.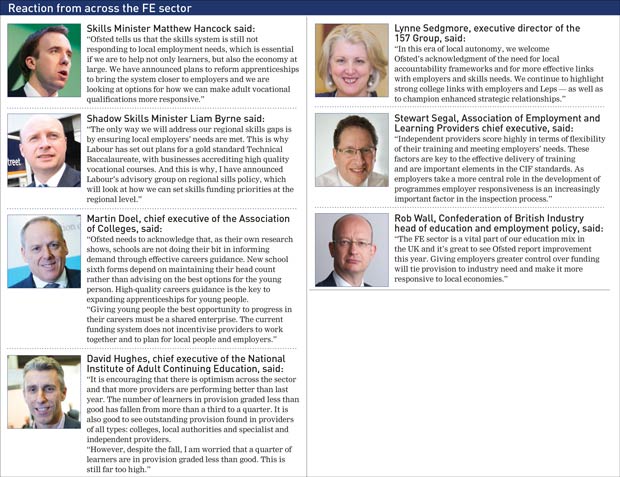 It added: "The ability to judge the true effectiveness of provision will depend, among other things, on the availability of robust data on learners' destinations."
Ofsted director of FE and skills Matthew Coffey told FE Week: "The one clear message from this year's annual report is about local accountability. It's about meeting the needs of local employers — that's got to be the number one priority.
"Providers need to look at their curriculum — does it match the local needs and how can you demonstrate that it does?"
The report went on to reveal plans for a review of how provision meets local needs and a Data Dashboad to "ensure governors have accessible data to hold leaders and managers to account".
It also called for greater sector representation on local enterprise boards (Leps), saying: "Only around one third of all Leps had a direct representative of FE and skills on the Lep board."
Mr Coffey said: "Last year we were very critical about the quality of teaching in particular. It wasn't good enough. It wasn't consistent enough within an individual institution, but across institutions the variability was also marked. We identified 13 providers that were judged to be inadequate and we had no outstanding ones — that was the benchmark of last year.
"And our new inspection framework focussed even more on teaching and learning so I'm delighted that this year we've identified a number of outstanding providers and they've all got outstanding for teaching, learning and assessment. So there are grounds for optimism."
But the report also pointed to a number of large colleges that had fallen from good or outstanding over the last year. Such colleges would include Liverpool, Coventry and Bristol. "These must be a priority for the new FE Commissioner," said the report.
Meanwhile, a review of study programmes, including traineeships as a "bridge to apprenticeships," was also announced in the report, which said apprenticeships were not taking off for young people. "Many young people are applying for an apprenticeship, but are not sufficiently employable," said the report, adding: "Too many providers do not work closely enough with employers and, consequently, apprentices fail to get the right training. This year, we judged 9 per cent of apprenticeship provision to be inadequate — this is far too high."
It continued: "Employers must … be supported in committing a greater number of apprenticeship places, especially for those under the age of 19."
Click here for an exclusive annual report interview with Mr Coffey.