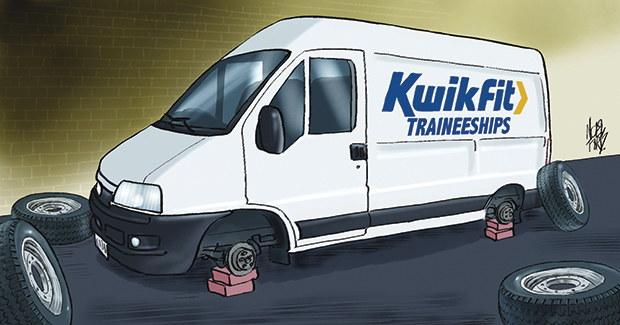 Kwik Fit has stopped running its controversial traineeship programme after Ofsted inspectors said it was no longer an outstanding employer provider.
Only providers rated as outstanding or good (grade one or two, respectively) can run traineeships — the government's flagship youth unemployment policy, which launched in August for 16 to 23-year-olds.
And inspectors gave Kwik Fit, which had not enrolled any trainees, grade three results in each of the headline fields, just under six years after it was last graded.
The Ofsted report said: "Since the last inspection, standards and performance have declined. Managers' use of data is underdeveloped to secure improvement in the quality of provision."
The 579-learner employer provider came under fire just over two months ago when an FE Week investigation, which led to a BBC Newsnight probe, found it was looking to take on trainees, unpaid, for up to 936 hours across five months.
The offer was branded "unacceptable" at the time by National Union of Students vice president for FE Joe Vinson, although a Kwik Fit spokesperson said learners would spend their "entire period training and never work unsupervised".
"We hope that people will actually complete their training modules more quickly than the maximum period allocated," he said.
Rules state that providers who fall below grade two must stop taking on new trainees as soon as the Ofsted report is published, but they can let existing learners finish their programmes.
Technically, grade three providers can run traineeships, but only via a subcontracting agreement in which they are not the lead.
Nevertheless, Kwik Fit's latest Ofsted report said: "Too few apprentices complete their qualifications within the expected timescale and success rates on classroom-based programmes are low."
It further said that, "managers have identified and discontinued two poorly performing adult apprenticeship programmes that significantly impacted upon success rates".
A Kwik Fit spokesperson said: "As the Ofsted report makes clear, our grading has been significantly affected by the results of two poorly performing programmes which have already been discontinued.
"We are pleased that the report reflects that we have a clear vision, and that a high proportion of apprentices progress into long term employment with us.
"We are currently implementing a strategic plan to make our core apprenticeship scheme stronger, the impact of which will see a return to the high grades we have previously achieved.
"We look forward to working with a dedicated Her Majesty's Inspector on this and demonstrating the results in an inspection in the near future. In the meantime, we will not be continuing with a traineeship programme."
Kwik Fit's traineeship blow comes after Skills Funding Agency boss Keith Smith and Ofsted FE and skills director Matthew Coffey indicated a slow start for the programme.
Despite there being no official figures yet, Mr Coffey told delegates at last month's
Association of Colleges conference the traineeship uptake had been "disappointing".
An agency spokesperson said: "Kwik Fit has made the decision to defer its traineeship programme while it focusses on strengthening its core apprenticeship programme.
"We are committed to ensuring that traineeships are a high quality route for young people into apprenticeships and employment."