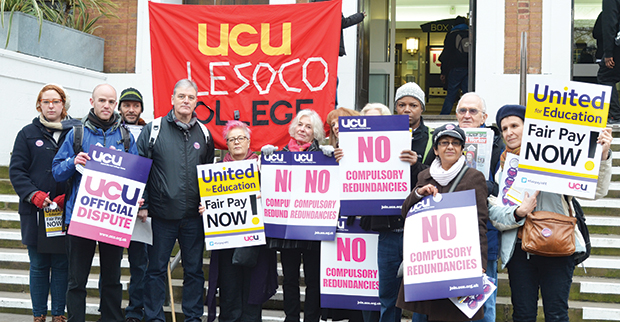 More pay strikes could be set to hit colleges following industrial action on Tuesday (December 3), the University and Colleges Union (UCU) has warned.
It said further industrial action could "not be ruled out" having overseen national demonstrations after rejecting the Association of Colleges' (AoC) 0.7 per cent pay rise offer.
According to UCU, around 270 colleges in England were affected by the strike, with 30,000 members of staff taking part in the walkout.
It is understood that Lesoco (formerly Lewisham College and Southwark College), Blackburn College, Hull College, Redcar and Cleveland College and City of Liverpool College were among the colleges affected.
A spokesperson for UCU said: "We will review the impact, consult branches and decide what next in our campaign for fair pay. Further industrial action cannot be ruled out."
The strikes were called after eleventh-hour talks with employers' representative, the AoC, failed to result in an agreement.
The union claims "a series of below-inflation pay offers from the association since 2009 mean FE lecturers have seen their pay cut by more than 15 per cent in real terms".
The union has been seeking a 5 per cent pay deal, and ballot its members after an offer of 0.7 per cent was made.
More than two thirds of those who voted (71 per cent) backed strike action.
It came despite the AoC having reached agreement with Unison, AMiE, ATL, UNITE and GMB through the National Joint Forum.
Emma Mason, AoC director of employment policy and services, said there had been no reports of strikes disrupting college business.
"UCU's industrial action risks damaging the education and training of students, undermines the reputation of colleges both locally and nationally and places an undue burden on non-teaching staff and non-union members to take measures to minimise disruption to the student experience," she said.
She added "The pay recommendation for 2013/14 is for a 0.7 per cent increase and £282 for staff earning £14,052 or less and increases the recommended minimum hourly rate to £7.45.
"This reflects the very real financial constraints our member colleges are facing. Since 2010 government funding to colleges has reduced by 25 per cent with a cut of £250m in this year alone."
Pictured: Lesoco (formerly Lewisham College and Southwark College) staff take part in national demonstrations over pay. Picture by Nick Linford