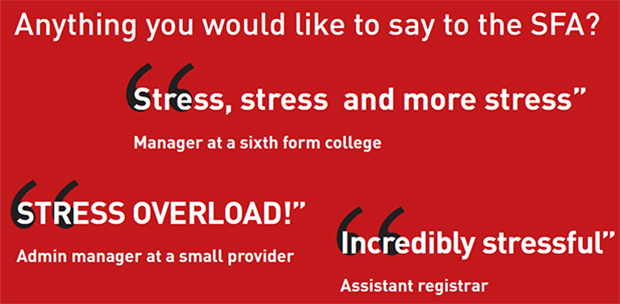 Further education data staff have spoken out about the stress and extra work caused by continued problems with Skills Funding Agency (SFA) software.
Management information system (MIS) officers responding to an FE Week survey hit out at the SFA over the strain and financial burden of preparing the fourth month funding data return (known as R04).
The survey was posted on the information authority Feconnect forum and the CMIS-Network, a Jiscmail email discussion group, on Wednesday, December 4 — the day before the R04 deadline.
Less than 10 per cent of the 153 respondents (9.2 per cent) believed they had a reliable funding report from the new funding information system (Fis) and almost a quarter (23.5 per cent) said they had been unable to successfully install the latest version.
The SFA came under fire last month after delays in releasing Fis, and the learning aims reference system (Lars) — an online tool enabling providers to look up qualification funding values — has still not been released in full, although a "Lars lite" version is available.
In response to the question "Is there anything you would like to say to the SFA about the impact on your organisation?", a third of the 106 who answered mentioned the additional stress and workload.
The deputy college information systems manager of a large FE college said the process had caused "stress and worry in unnecessary amounts as a result of the software fiasco" and branded it "an appalling waste of time and money".
The MIS manager of a local authority said: "The amount of staff hours spent on the Fis and invalid records is causing us financial problems."
Another respondent, the deputy director for finance and funding at a large FE college, said: "We have exhausted staff, unreliable data and have had little or no support from the SFA, IA [Information Authority] or DS [Data Service]."
Concern over lack of support was also expressed by the MI manager of a small FE college, who said: "I have had emails into the Data Service for over two weeks and they have just replied this morning with answers that are completely irrelevant to the question."
Many data staff also called on the SFA to take responsibility for the situation, which was dubbed a "shambles".
The director of MIS at a large FE college said: "Every apology is limited ('we apologise to anyone who might have been affected') with spin saying actually it is not that bad after all — it is that bad."
The director of a small independent training provider said: "If a provider had delivered performance at this level they would have lost their contract … Parity with sanctions please — if providers are penalised for poor performance, I suggest the same must be true for the SFA."
The R04 will be used to calculate the statistical first release, due out in January, but the SFA was unavailable for comment as to whether large amounts of inaccurate or incomplete data would prevent publication.
When asked by FE Week about the stress caused by R04, Association of Colleges (AoC) assistant chief executive Julian Gravatt said: "We're confident that colleges will manage stress issues among their staff and there's AoC advice available to help them.
"Hopefully this week's R04 return will be a success and we'll both build on this next year while ensuring that everyone learns the right lessons from the project."