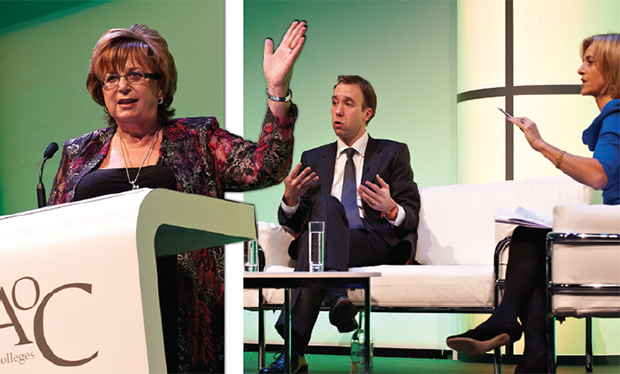 Prime Minister David Cameron has been ordered to "get a move on" to improve the careers advice given to school pupils.
Association of Colleges president Michele Sutton branded the quality of information, advice and guidance available to young people at schools as "apalling".
In a speech at her association's annual conference, she also called for colleges to be allowed into schools to promote their post-16 alternatives to school sixth forms.
"Wherever I go, whoever I speak to, principals across the country all agree that the quality of impartial advice and guidance is nothing less than appalling," said Mrs Sutton.
She added: "I would say to the Prime Minister — please, get a move on.
"The longer this disgraceful situation exists, the longer term effect there is on the young.
"Too many young people, usually those who need advice the most, miss out."
Her challenge forms part of the association's Careers Advice: Guaranteed campaign, launched after Ofsted found that very few schools were offering effective careers advice.
The campaign calls for increased access to advice through Jobcentre Plus and local authorities, accountability through Ofsted and investment from the Department for Education and informed choice for learners.
And Mrs Sutton further pointed to recently-published Education Funding Agency data that showed schools lost 50 per cent of their pupils between year 11 and year 13.
Mrs Sutton said learners, "end up in the wrong institution, often sixth forms in schools, doing the wrong course… How many of them will end up not in education, employment or training?"
She added that FE principals agreed they were enrolling too many 17-year-olds who had dropped out of school sixth forms, meaning they would spent three years in post-16 education, "affecting their career choices and opportunities in the future".
"This is a personal cost to the young person and a financial cost to the taxpayer," she said.
"The number of young apprentices is already falling in some areas – no wonder when so few people and their parents don't know about the opportunities that are available to them because we are not allowed into schools to give the information they need."
And Skills Minister Matthew Hancock was also grilled on the subject following his own speech to the conference later that day.
Television presenter and conference chair Emily Maitlis asked him whether colleges would be allowed into schools to give careers advice. He said: "Broadly speaking, yes."
However, he did not elaborate on what this meant for colleges.
But he said that Ofsted would help hold schools to account over their careers advice.
"I am very clear about it, but Sir Michael Wilshaw [Ofsted chief inspector] is also extremely clear about it and schools fear his judgement rather more than a minister's," said Mr Hancock.