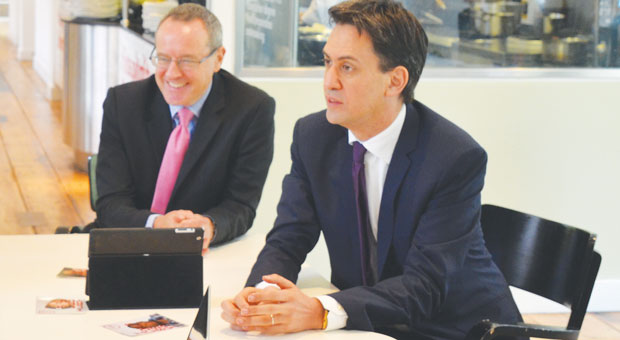 Labour leader Ed Miliband said he was prepared to risk falling out with employers by forcing them to hire apprentices against their will.
He made the comments during an interview with FE Week at London's Tech City, which is a hub for digital and media firms.
Mr Miliband's visit on November 12 followed his party's announcement that former Tomorrow's World presenter Maggie Philbin had been appointed head of a new digital skills taskforce.
She is also chief executive of TeenTech, which promotes careers in science, engineering and technology.
The taskforce will work with schools, colleges and employers to produce recommendations before the next general election to improve training in the technology sector.
But, along with the taskforce launch, Mr Miliband re-iterated his support for a controversial policy — first announced at the Labour Party conference in September — that would involve firms being ordered to employ an apprentice for every employee they took on from outside the European Union.
He refused to back down on the policy despite Tory claims that employers might see taking on apprentices as a punishment.
Mr Miliband said: "We want to say to anyone who is bringing in workers from outside of the European Union that they also need to bring in apprentices.
"We are with companies today who are prepared to invest in training.
"We need more companies like that, so we can nurture talent as a country."
He further said he was prepared to fall out with employers who resented the policy.
Mr Miliband's visit also included a trip to Hackney Community College, which has launched a new creative and digital media apprenticeship scheme in partnership with firms based at Tech City.
Principal Ian Ashman said: "There are very few apprenticeships in this sector and this is level four,  so we are very proud of what we are doing here.
"It has taken around 18 months to carefully develop this apprenticeship scheme, with a lot of input from the employers, which we are extremely
grateful for."