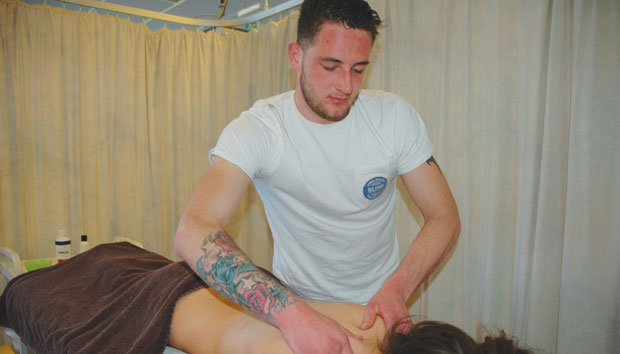 Brave ex-carpenter Sam Appleton has gone back to Basingstoke College of Technology to retrain as a masseuse having gone blind just three months after he was diagnosed with a devastating eye disease, writes Paul Offord.
When Sam Appleton (pictured above) qualified as a carpenter from Basingstoke College of Technology, he never imagined cruel fate would soon force him back there to retrain as a masseuse.
Sam, aged 21, first graduated from the college in 2010 and spent the next two years using his woodwork skills to refurbish offices.
But in July last year he was diagnosed with an eye disease called Leber's Hereditary Optic Neuropathy (LHON). Within three months he was blind.
Sam, from Tadley, in Hampshire, said: "I went on holiday with my mates and I woke up and my vision was all blurry.
"I thought it was because I'd been drinking and then I just thought I needed glasses, so I went to get tested.
"But it wasn't what I thought — I got the diagnosis and my eyesight deteriorated."
He added: "I didn't really feel anything when I got the diagnosis. I didn't believe it was happening and I just tried to carry on as normal.
"Then at Christmas I realised I couldn't see anything at all. I had to quit as a carpenter."
Sam's 39-year-old dad, James, then suggested he should go along to his old college's open evening last September and find out about massage courses.
Sam began training as a masseuse the following week.
"It really wasn't something I'd ever even thought about doing before — there's a big difference between carpentry and massage," said Sam."It was a bit nerve-racking walking into the first class because there were 15 girls and I was the only boy. I know that would be some lads' dream, but I found it hard because I couldn't read people's facial expressions.
"But they were really lovely people and they really helped me."
Sam completed the course in May this year and has already launched his own business, called Blind Sensations.
He said: "It doesn't really pay a lot yet but it's early days. I've always been self-employed so it's something I'm used to. I get to get up at 9am or 10am, which is tough, but someone's got to do it."
Sam has also raised more than £500 for sight loss charity Open Sight, which supported him
in getting back to work, through offering clients massages in exchange for a donation.
Sam's tutor, Alice Avenell, said: "His parents helped him start it up, creating a Facebook page, business cards, T-shirts and flyers. Sam is now building a network of clients through friends and family and attending local fairs and charity events."
Sam did work experience at the Serenity Centre, in Ramsdell, Hampshire, and now rents a room at the venue to carry out massages. He is also gaining experience of sports massage at Reading Rugby Club.
He said: "Next year I am booked-up to do a sports massage course too. It will be an extra string to my bow."
James said: "Quite simply, without all the flexibility and support from the department, we wouldn't be here. The course and the tutors have really helped Sam and given him a purpose."
Visit Sam's Blind Sensations page on Facebook for further details.