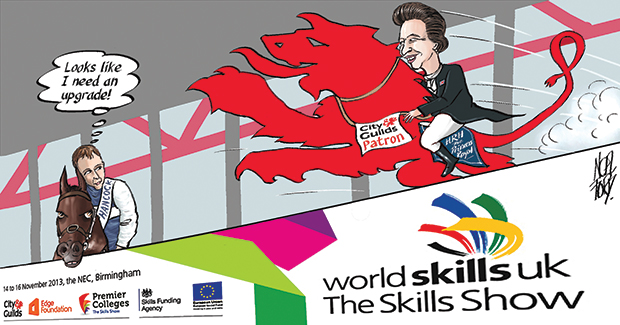 The Skills Show will be given the royal seal of approval by Princess Anne through her role as president and patron of the awarding organisation City & Guilds.
The Princess Royal, a member of Great Britain's 1976 Equestrian team, will attend the event at the NEC Birmingham on November 15, midway through the three-day event which closes the following day.
Skills Minister Matthew Hancock, who last year won a charity horse race at Newmarket, was due to attend on day one.
Up to 75,000 people, including primary and secondary school children, FE students and adult learners, are expected to attend the Skills Show, which will cover an area equivalent to the size of seven football pitches.
Chris Jones, City & Guilds director-general, said: "We believe the Princess Royal's attendance will inspire young people about all of the options out there and go some way towards overcoming the false perception of academia as the only pathway to success.
"She shares our commitment to helping young people fulfil their potential."
The centrepiece of the show will be 70 WorldSkills UK national competition finals, in disciplines including welding, bricklaying, industrial electronics, game design, web design and hairdressing.
More than 650 competitors will take part.
They qualified ahead of 5,000 people who took part in 500 heats across the UK, during the spring and summer.
The finalists will battle it out over three days of tough competition, with the aim of winning gold and being named the best in their skill.
Keith Smith, the UK's official delegate for WorldSkills and Skills Funding Agency executive director, said: "I wish every competitor the best of luck.
"It takes hard work, determination and a high level of skill to compete against the UK's most talented apprentices and learners."
————————————————————————————-
Editorial: The Skills Show is our best kept secret, unfortunately
More than 650 of our most talented and skilled young people will be in Birmingham over the coming days.
Not too many people outside of FE may know it, but they will competing to be crowned our best young craftsmen and women.
The competitions take place at the UK's largest skills and careers event, spanning an area equivalent to seven football pitches.
Yes, it's time for the Skills Show 2013.
HRH the Princess Royal will pay a visit, but more importantly, will you and your students?
The sector speaks of raising participation, standards and aspirations — the Skills Show is an opportunity for exactly that.
We don't need the implementation of a pass, merit or distinction system to inspire young people to be the best.
Look at what's achieved at the competition finals next week for yourself, along with your learners.
Experiencing these skills competitions and the Skills Show will raise aspirations.
The Skills Show is far too important be the UK's best kept secret.
Nick Linford, editor