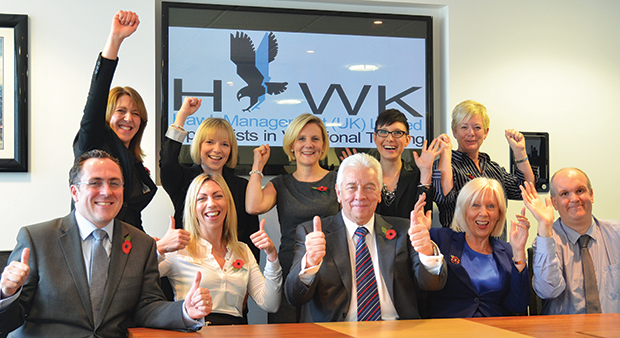 The 14-month wait for an outstanding independent learning provider (ILP) under Ofsted's current common inspection framework is over.
The education watchdog visited Twickenham-based Hawk Training late in September and on November 1 issued it with a glowing, grade one inspection result.
It was the first ILP to achieve the feat under Ofsted's latest inspection regime after 134 visits.
Hawk, a 1,300-apprenticeship provider, was rated as good in 2008, but this time won outstanding ratings overall and also for its leadership and management, and — key to its overall grade one result — teaching, learning and assessment. It was also rated as good for its learner outcomes.
"Highly-skilled and enthusiastic staff serve as outstanding role models for learners," it said in the report, which added: "Leadership and management are outstanding, leading to significant improvements in the quality of provision."
Its managing director, Terry Barnett, said: "We've worked very, very hard other the last two years to get up the teaching and learning and assessment. We work very hard for all our people to get a certificate in teaching and learning and assessment."
He added: "At the end of the day, it's all about hard graft. It's about getting your head down, making sure your organisation is a quality organisation, working with quality people.
"I think one of the good things that always stood me in good stead, is always try and do business with nice people. You can't always do it, but if you can it helps a lot.
"I think we're fiercely proud of what we've done and what we've developed."
Hawk, established in 1988, delivers training in early years and playwork, business and administration, and team leading and management to a range of employers, including the government and Xerox.
Among its areas of praise from Ofsted were "considerable investment…in improvements to accommodation, information technology and resources for learning".
The report continued: "Tutors use their modern ICT equipment, a broad range of software and additional learning resources well to enhance the learning experience for apprentices in the workplace."
Stewart Segal, chief executive of the Association of Employment and Learning Providers, visited the firm on the day its Ofsted report was released. He said: "Meeting the Hawk team, it is easy to see why the provision has been graded as outstanding.
"The facilities, the attitude and commitment of the staff are second to none and it is good to see that this has been recognised by Ofsted.
"Hawk Training is a real example of how work-based learning can deliver high quality, flexible programmes across a wide range of employers.
"We are delighted that Hawk Training has agreed to share some of their experiences at an AELP conference on December 10, when we will hear the feedback from the Chief Inspector's annual report."
Of Ofsted's 135 ILP inspections under its current inspection regime, in which providers must achieve outstanding for teaching and learning to stand a chance of getting the same grade overall, a dozen inadequate ratings have been dished out.
There have also been 55 grade three, or requires improvement, judgments along with 67 at grade two, or good, plus Hawk's grade one.
"We hope that more providers will achieve outstanding and good ratings from Ofsted, but the new inspection framework is only a year old and we will continue to work with Ofsted to ensure that the key elements of work-based delivery are fully recognised within the framework," said Mr Segal.
"Examples like Hawk Training can only help improve the understanding of what a work-based learning provider can deliver for employers and learners."
Picture caption  — back row, from left: HR director Vanessa Jones, learning development team manager Clare Burden, operations manager Kathryn Osborn, learning development team manager Lianna Hulsdunk and apprenticeship recruitment manager Karen Penny. Front row, from left: commercial director Crawford Knott, finance director Joanna Hayes, managing director Terry Barnett, operations director Jo Barnett and management information specialist Andy Tyrer. Picture by Nick Linford