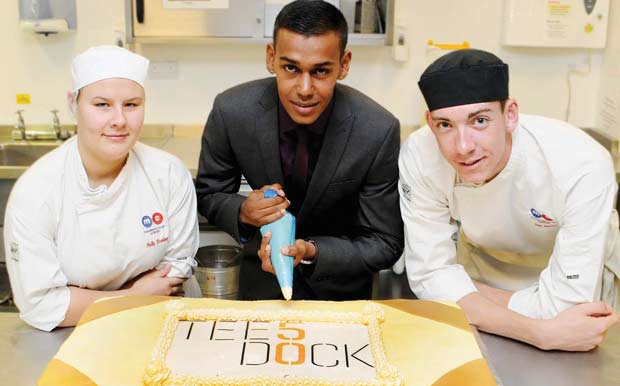 Catering students baked a giant cake for 300 people to celebrate a container port's 50th anniversary.
Tees Dock, in Middlesbrough, which is managed by PD Ports, was officially opened in 1963 and now employs 650 people.
Sixteen students from Middlesbrough College took three days to prepare and bake a giant birthday cake — along with 500 cupcakes — for an anniversary family fun day.
Zoe Lewis, Middlesbrough College principal, said: "We were thrilled to be asked to make the centrepiece for PD Ports' celebrations.
"It's testament to the skill and professionalism of our students, and working on projects of this size ensures our students are ready for work when they complete their studies."
Middlesbrough College and PD Ports joined forces in 2011 to deliver a set of training programmes for more than 70 port employees.
Featured image caption: PD Ports' youngest Tees Dock employee Aadil Hassan, aged 19, puts the finishing touches to the 50th birthday cake, helped by Middlesbrough College level three patisserie and confectionery students Holly Stanley (left) and Sam Harvey, both 18