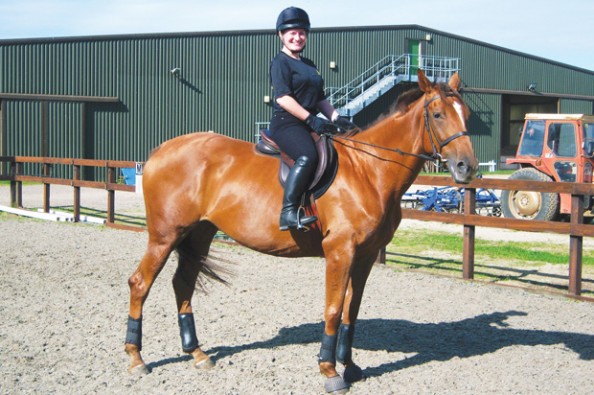 After enduring dozens of painful operations over the last six years, equine student Sarah Underwood is hoping to compete in the dressage at the 2020 Paralympics, writes Anisa Fatima.
A college student who has undergone 30 operations since 2007 has been given a former race horse to help fulfil her dream of competing in the Paralympics.
Sarah Underwood, aged 34, from Bolton, is studying for a British Horse Society teaching qualification at Myerscough College, in Lancashire, and dreams of competing in the dressage at the 2020 Tokyo Games.
She suffers nerve problems in her left leg, as well as her hands and wrists, walks with a limp and often needs crutches to stay mobile.
Her disabilities resulted from complications during routine surgery in 2007. This led to 29 further operations and she only narrowly escaped having her leg amputated.
Sarah had originally planned to represent Team GB in both wheelchair fencing and disability shooting at the 2012 Paralympics, but surgery prevented her from being available for selection.
But she refused to let that disappointment hold her back and has started training for future Paralympic glory on a nine-year-old former racehorse, called Fleur, which was given to her by The Anders Foundation charity.
"Although the whole story is a bit tragic, I just think that I am so lucky because it has led me to create lots opportunities to meet lots of lovely new people," said Sarah.
"Yes, I will need surgery for the rest of my life, but it is what it is."
She added she could not believe her luck when the charity, which helps disabled and able-bodied young people achieve their sporting dreams, gave her the horse.
"Hopefully, with a lot of hard work, I will now be able to improve my riding ability, get the horse to the next level and acquire sponsorship to get me to the Paralympics," said Sarah.She also works with the Riding for the Disabled Association and was even invited by Princess Anne to a reception at Buckingham Palace earlier this year in recognition of her efforts.
Sarah has maintained a positive outlook throughout her many setbacks and had good advice for other people forced to learn to live with disabilities."You can either waste your life feeling dreadful or suck it up and get on with it," she said.
"The more you fill your life, it shrinks the impact of the disability. It's just a part of your life then rather than being the main focus."
Anyone interested in providing sponsorship can email sarah_underwood@hotmail.com
Featured image caption:Sarah Underwood and her horse Fleur