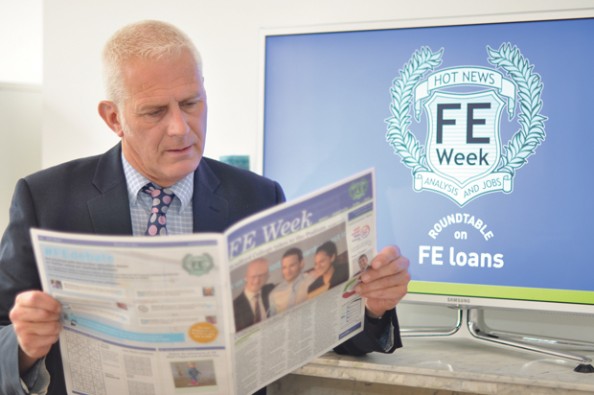 Former Shadow Skills Minister Gordon Marsden (Pictured at FE Week HQ for a roundtable on FE loans)
 has paid tribute to his old FE sector stomping ground, describing it as his "passion".
Mr Marsden, who has joined the shadow team for transport following last week's ministerial reshuffle, said his new position would be "an interesting place" with "all sort of fascinating things going on".
"However, I also have enormously enjoyed and am very sad to be leaving the area of FE and skills and lifelong learning," he said.
"To me this job hasn't just been a wonderful job to be given it has also been a passion."
Mr Marsden held the shadow skills position since the 2010 General Election, having previously served on House of Commons Innovation, Universities, Science and Skills Select Committee and before that the Education and Skills Select Committee.
"Most of my life inside and out of politics has been concerned with education and life chances and those issues," he said.
"So it has been a double bonus to do a job that is fascinating, with some wonderful people but also to do it in an area that I feel strongly about."
He added that he had been "richly blessed" by the "warmth and support" of his colleagues.
He said: "I've simply been heartened week by week in meeting all the individuals in FE and skills and without whom I couldn't have done half what I've tried to do."
Association of Colleges chief executive Martin Doel said Mr Marsden had been a "fantastic" Shadow Skills Minister, whose "passion for the work of colleges has been evident".
He highlighted Mr Marsden's work in ensuring access to higher education students would not have to pay back advanced learning loans if they went on university — something Mr Marsden said was one of his proudest achievements in the role.
Mr Doel also praised Mr Marsden's campaign to ensure students on 'inactive' benefits were able to access FE, particularly those taking ESOL courses.
Toni Pearce, president of the National Union of Students, said: "Mr Marsden's support for numerous campaigns has been very much appreciated. It has been great to work with him, and we wish him the very best for his new role."
Deputy executive director of the 157 Group Christine Doubleday said the organisation had "always held Gordon in very high regard" and praised his "wealth of experience and passion for FE. We do of course wish him all the best and look forward to working with Labour's new skills team."
Association for Employment and Learning Providers chief executive Stewart Segal said: "Gordon has always taken a keen interest in the views of independent training providers… and we are very grateful for the substantial contribution he has made in maintaining the profile of FE and skills at Westminster."
Jill Stokoe, education policy adviser at the Association of Teachers and Lecturers, also praised Mr Marsden's "energy and passion" for the role, particularly his commitment to apprenticeships.