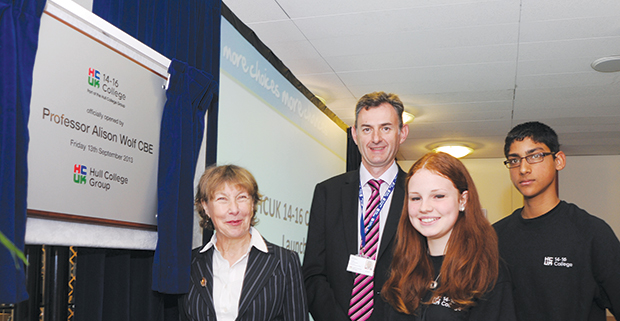 Seven colleges in England are for the first time taking on young teenagers. Hull College Group is one of those.
One hundred 14 to 16-year-olds in Hull are among the country's first within the age group to study full-time at college.
Hull College Group launched its new college on Friday, giving the youngsters the chance to study vocational specialisms over a two-year period alongside GCSE English, maths and science.
Professor Alison Wolf CBE, who recommended that providers should be allowed to enrol students at 14, helped launch the college.
Group chief executive Gary Warke said: "We are pleased to welcome our first cohort of students to the 14 to 16 college.
"It's an historic moment for Hull College Group and one that signifies a momentous moment in education."
Hull College was rated as outstanding by Ofsted in August 2009.
It is one of seven to directly enrol 14 and 15-year-olds. The others are Halesowen College, in the Midlands; Middlesbrough College; Leeds City College; Newcastle College Group; Accrington and Rossendale College, in Lancashire; and, Hadlow College, in Kent.
Hull's class sizes are smaller and students will be taught by specialist vocational tutors who are industry trained, said a college spokesperson.
Student support in the form of personal tutors, learning mentors, support for students with disabilities and a full range of enrichment activities will play an integral part in the development of students.
It's an historic moment for Hull College Group and one that signifies a momentous moment in education"
Pathways are also in place to ensure students have various progression opportunities, added the spokesperson. From 16, students can study full-time vocational courses, full-time A-level courses, apprenticeships, employment and further training.
From 18, students can continue on to higher education either with Hull College or at university or they can leave education and enter into employment.
Mr Warke said: "Our previous experience has cemented Hull College Group as a pioneer of 14 to 16 education. This includes sponsorship of the Hull Studio School and Sirius Academy.
"Both are representative of the success Hull College Group has with this age group and what can be achieved with an exciting, varied curriculum and excellent teaching staff.
"We wish our new students all the best."
The criteria for direct recruitment of 14 to 15-year-olds include an outstanding, good or requires improvement rating from Ofsted.
Colleges who do take on 14 and 15-year olds will also be required to provide a dedicated area for them within the college estate, as well as separate leadership.
Colleges will also be subject to an Ofsted inspection under the schools' framework within two years of their 14 to 16 centre opening.
The Education Funding Agency declined to indicate how many students were likely to be enrolled overall this year, but a spokesperson said: "We are pleased that these seven colleges will be acting as early pathfinders and will be working closely with them to learn early lessons and share good practice."
He added: "The funding they receive will be based on the actual numbers they recruit."It is understood that more colleges are planning to offer 14 and 15 provision in 2014/15.
Photo from left: Professor Alison Wolf, Gary Warke and students Jessica Linford and Mario Sequeira, both 14. Photos by  Colin Wallwork for FE Week