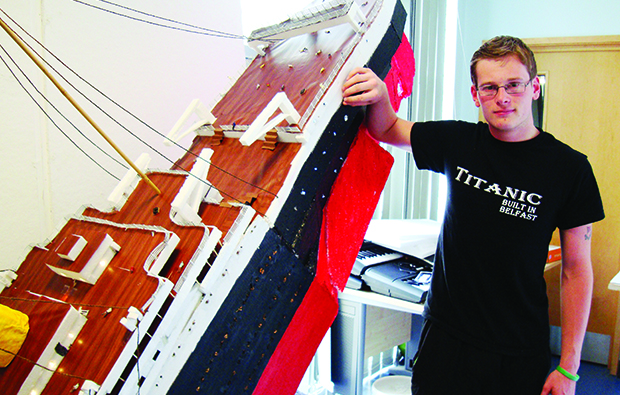 A Weston College student's scale model of the Titanic was too big for the bus so he pushed it 15 mile on a converted go-kart to his college.
Level two art and design student Lorin Robinson, 17, created the model at his home in Clevedon, but as he doesn't drive decided to push it on a trolley — with help from his friend Alex Price, 16 — made from a go-kart.
"We set off about 12:50am because we thought the roads would be quieter," said Lorin.
"We didn't realise how many street lights are turned off at night, so it was much darker than we thought. We only had a single torch and some lights on the model."
The boys negotiated blind corners, trucks thundering past and dark cycle paths,  to arrive just as the sun came up.
Art and design curriculum manager Neale Jordan Mellersh found them asleep outside the classroom at 7:30am.
He said: "Lorin's dedication . . . is symptomatic of the attitudes of all of the students within the faculty of art."
Featured image caption: Lorin Robinson with his scale model of the Titanic