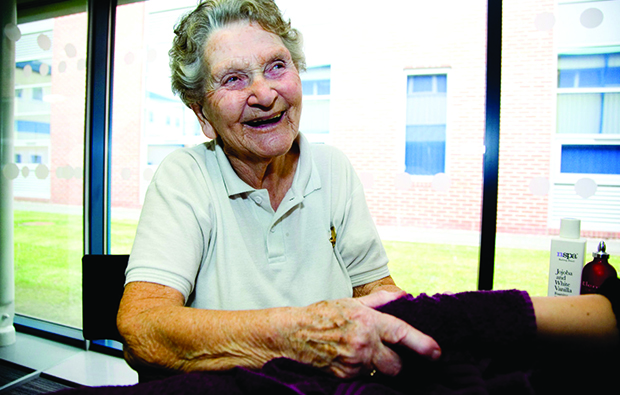 A great-grandmother is this year's Senior Learner of the Year. She's now 94 but, as she tells Rebecca Cooney, she's still signing up for courses
A great-grandmother who got the learning bug in her 80s is now giving her skills back to the community and, at the age of 94, is still learning.
Margaret Isherwood, from Fairfield in Warrington, tried Reiki healing when she began to suffer breathing difficulties when she was 83.
"It did me so much good that I decided I could help other people. And that was how I started," said Margaret, who enrolled on a Reiki course at Priestley College.
"I didn't know what to expect to be quite honest, and I said to the tutor 'I'm much older, so if I'm slow, tell me and I'll drop out'. But I progressed and enjoyed it so much. Then the tutor said 'what are you doing next year?'"
Margaret has since gone on to gain qualifications in crystal healing, aromatherapy, Indian head massage, reflexology, holistic facials, hot stone therapy and Hopi ear candles, as well as a holistics therapies degree at Halton College and Salford University.
"I just got the bug and went on and on," she said. "I've enjoyed every minute of it."
"I couldn't have done it when I had a family, but as I was on my own, I could study when I wanted to or stop for a break when I wanted.  If I'd had a family I'd have had to stop and do meals and things like that… I don't know how these young single mothers do it."
Now Margaret shares her skills by teaching massage to NHS staff at nursing homes, and by volunteering for community groups and charities, including Age Concern, a group that she has worked with for 20 years.
"I run two elderly wellbeing groups  —although they're all younger than me," she said.
"I didn't have to pay an awful lot for my courses — one only cost me £10 — so I feel that I'm giving something back as well as making a difference to people's lives."
That 'making a difference' is why she chose to specialise in holistic therapies.
"You can feel people relaxing when you're doing things," she explained.
"It's a standing joke that I put everybody to sleep."
Margaret's enthusiasm for learning earned her the Senior Learner of the Year award during this year's Adult Learner Week, a prize that she received at a national ceremony in London.
"It was fantastic, I had a wonderful day… I was treated just like a queen," she said.
Glennis Hassall, adult education curriculum manager at Priestley College, said: "Margaret is an incredible example of what can be achieved, whatever your age.
"What is particularly impressive is how driven she has been in taking on these new qualifications and giving so much back to the community around Warrington."
There's no sign of slowing down from Margaret, who is now getting involved with mental health and Alzheimer's charities, two groups that she "really wants to get into".
"Mencap is opening a new drop-in centre in September and they immediately said 'we want you as the resident holistic therapist'. I said yes. Another charity is starting something and they want me as well, so I've got two new projects coming up," explained Margaret
She enrolled on a computing course in 2012 so that she could keep in touch with her family, and is currently taking a soap-making and toiletries class.
"It's a recreational course," she said. "I'd have gone mad just sitting there in front of the television."
Margaret is keen to encourage other older people to follow in her footsteps.
"Oh for heaven's sake go and do something," she said.
"It doesn't matter what, because there are so many opportunities for people if they just would do something."
Featured image caption: Margaret Isherwood: "I'd have gone mad just sitting there in front of the television"
Do you have an older learner at your college or private training provider? Let us know about them — email Rebecca.Cooney@feweek.co.uk