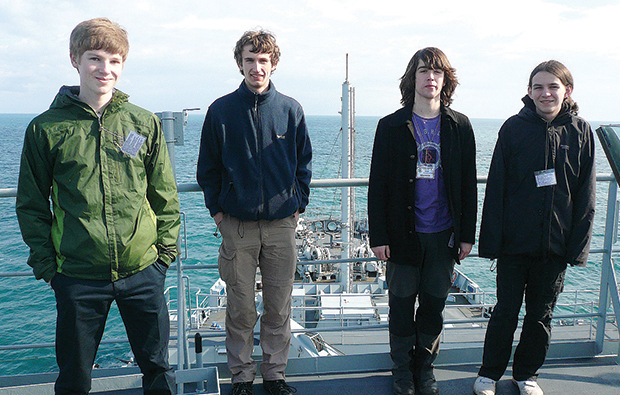 Barton Peveril College  engineering students Tom Abbey, Wesley Frost, Alex Wilson and Robert Winn dropped in by helicopter on the Royal Fleet Auxiliary stores ship, Fort Austin, on a fact-finding mission for their engineering education scheme project.
The quartet has been working with the Royal Navy to develop a new system of measuring the distance between moving ships delivering and receiving supplies and fuel, known as 'replenishment at sea'.
Isabel Culmer, engineering education scheme co-ordinator at Barton Peveril, said: "All the different experiences of the day were amazing and the students learned so much."
The students watched Fort Austin deliver supplies and fuel to a Dutch frigate, as well as having lunch with the officers and taking part in a 'man overboard' rescue drill.
Featured image caption: From left: Alex Wilson, Robert Winn, Wesley Frost, Tom Abbey, all 17 onboard the Ford Austin