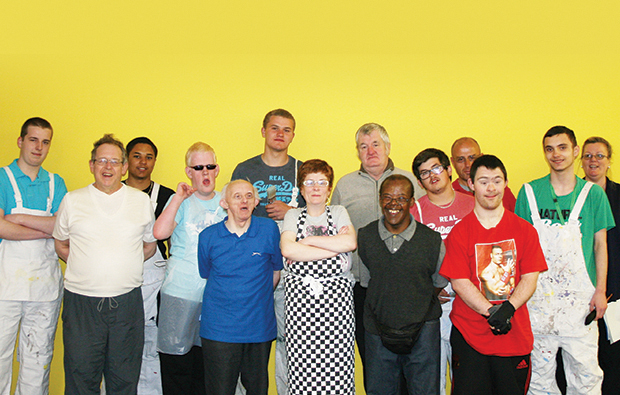 Painting and decorating students from London have helped to brighten up a day centre for disabled adults.
Barking & Dagenham College preparation for employment students Paul Bryant, Mark Fortune, Stephen Jeakins, Sean Taylor, all 17, and Charlie Ross and Ben Hopkins, both 16, painted the Maples Centre's multipurpose room yellow, to match its overall colour scheme.
The work was commissioned by Barking and Dagenham council, which runs the centre.
"The students were very professional," said Anne Leach, the council's community project leader for adult and community services.
"It would be a pleasure to offer them more work in the future."
Featured image caption: Barking & Dagenham College students in their overalls, from left: Paul Bryant, Stephen Jeakins, Ben Hopkins, Mark Fortune and Charlie Ross with some of the day residents and staff at The Maples day care centre