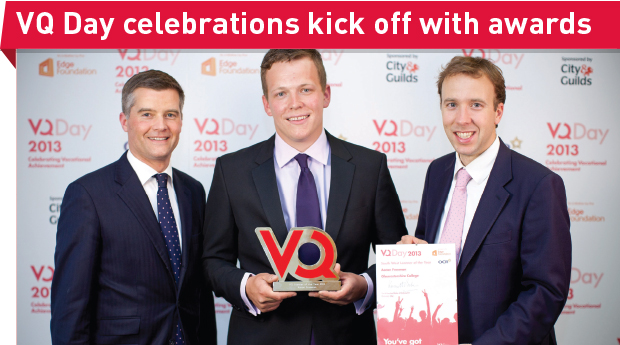 Mark Harper MP, Aaron Freeman, National VQ Learner of the Year, and Skills Minister Matthew Hancock
VQ Day celebrations kicked off with a ceremony and reception in the Houses of Parliament to recognise the achievements of vocational learners from across the UK.
Lord Kenneth Baker, chair of the Edge Foundation, and Skills Minister Matthew Hancock presented a range of regional awards, as well as Learner of the Year and, for the first time, Employer of the Year.
Lord Baker said: "We've got to elevate the whole concept of vocational and technical education in this country; we need it desperately."
Mr Hancock agreed. "Millions of people achieve vocational qualifications throughout the year. Today is the day that we can celebrate that," he said.
Aaron Freeman, 24, from Gloucestershire, won the learner award. He came back into education at 19 to do a public services diploma before going on to a degree in criminology and psychology. He now runs his own business.
He impressed the judges with his commitment to his studies and his dedication to "providing invaluable work experience to former peers".
He said: "To have this recognition makes me really, really proud. I'm really into promoting vocational qualifications — I think they have a bit of a bad name and that's wrong."
The Veolia Group won the employer award.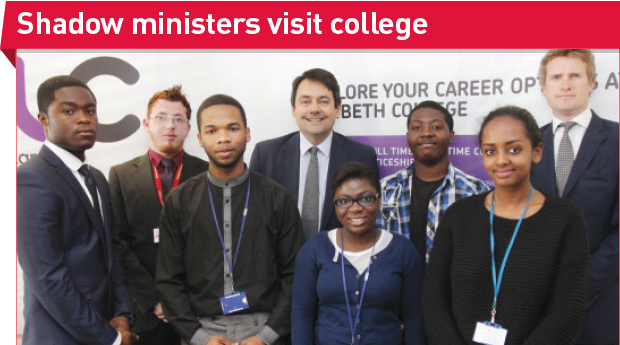 Students with Shadow Ministers Stephen Twigg, centre, and Tristram Hunt, far right, as part of a group discussion
Shadow Education Secretary Stephen Twigg visited a London college as part of VQ Day celebrations to chat with students about their career hopes.
He was joined by Shadow Education Minister Tristram Hunt at Lambeth College's Clapham Centre where a 'high street learning environment' is due to open in September, featuring a hairdressing salon, beauty spa, restaurant, gym and shops.
The college, which brands itself as the Careers College, is also developing a Skills Exchange, where learners can register their interest in, and availability for, part time work, volunteering, apprenticeships and project work with employers as well as permanent work.
Principal Mark Silverman said: "The major new developments at our Clapham centre will enable us to develop strong partnerships with schools and employers.
"They ensure that our curriculum is fit for purpose and reflect skills gaps and future job prospects within Lambeth and South London.
"Our vision is one where learners can put their skills into practice, get ready for the world of work and obtain real work experience to put on their CVs.
"I'm delighted that as part of VQ day I can share with the Shadow Ministers how we anticipate repositioning ourselves to become a truly vocational college which will help our learners become the employees or entrepreneurs of the future."
VQ Day celebrates vocational qualifications that give students a foot in the door to the industry they want to work in, or prepare them for vocational study or
university.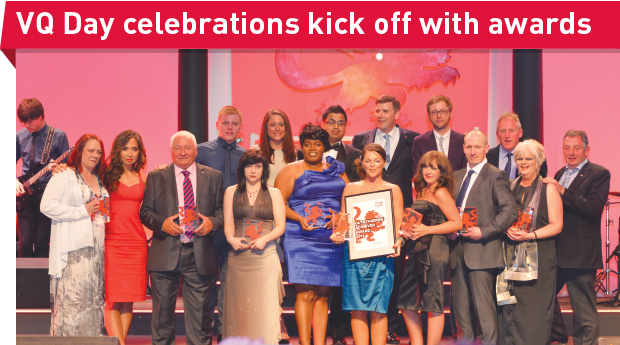 Learners and tutors line up with the evening's host, Myleene Klass, red dress, far left
The achievements of more than 100 learners and tutors were recognised at a glamorous and glitzy ceremony last Wednesday evening at the Roundhouse in North London's Camden.
In its eleventh year, the Lion Awards, organised by City & Guilds, are the finale for the organisation's medals for excellence programme.
All this year's winners were invited to attend last week's spectacular ceremony, hosted by pianist and singer Myleene Klass, who played for the audience as things got underway.
Nominees and guests were treated to a red carpet reception, three-course dinner and, in addition to Ms Klass, entertainment from BRIT school pupils.
Nominees are selected through a points system, following the achievement of a medal for excellence.  All are judged by City & Guilds' representatives against a separate set of criteria for each category, with the exception of the People's Choice Award.
More than 39,000 people voted in this year's people's award, won by George Wingfield (pictured third from left). With almost 50 years in the plumbing industry  — he was named "Britain's favourite plumber" in 1992. He was recognised for his teaching at West Cheshire College.
Judges also chose a "winner of winners" from the evening's line-up. Helen Wynne, of Deeside College, who won the Small Business Learner of the Year Award also won the overall Outstanding Achiever Award.
Helen Wynne was recognised for her determination to set up Blyths Child-minding, which specialises in caring for children with disabilities and additional needs, after her son was born with a rare disability and she could not find appropriate childcare provision for him.
Respects were also paid to the late Maria O'Boyle, the Innovator of the Year, who was recognised for engaging learners failed by education. Many said they couldn't have completed a qualification without her guidance. O'Boyle died after a long illness a few weeks ago, but her brothers were at the ceremony to collect her award.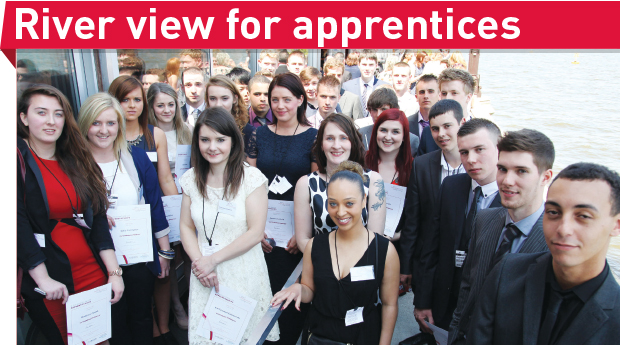 Apprentices on the terraces of the Cholmondeley Room at the House of Lords, overlooking the River Thames in Westminster
The successes of some of the highest achieving apprentices from West Nottinghamshire College were celebrated at the House of Lords last Wednesday.
Apprentices, employers, parents and guests packed the opulent Cholmondeley Room for a lunchtime reception hosted by Baroness Prashar.
The event was an opportunity to formally recognise the positive outcome that apprenticeships generated for both learners and their employers. Twenty-five of the college's 12,000 apprentices were formally congratulated and awarded for their achievements.
The college's principal and chief executive, Asha Khemka, OBE, said: "It is a tremendous privilege to be here, in such beautiful and historic settings. Celebrations of this kind are the highlight of my role . . . If I had my way, I would have all 12,000 apprentices with us today."
Skills Minister Matthew Hancock  said: "Today is a great opportunity to celebrate the high-achieving apprentices, the small and large employers that play a vital role in the delivery of apprentices and more generally the apprenticeships programme."
The apprentices  at the reception came from West Nottinghamshire College and its subsidiaries, Vision Apprentices and Vision Workforce Skills.