Adult Learners' Week winners recently got together in London to thank their tutors. Rebecca Cooney was there
The dedication of FE tutors was honoured as part of Adult Learners' Week (ALW) with a special celebration ceremony in central London.
David Hughes, the chief executive of the National Institute for Adult Continuing Education, said the event on May 20 – the first of its kind –  had been prompted by ALW award winners.
Every one had talked about their tutors, he said. "That sense that someone has actually invested in you and believes in you, which gives you the confidence to go on . . . it comes through time and time again.
"So I think it's really fitting that we're here to do something slightly different to traditional Adult Learners' Week . . . to celebrate and recognise [tutors]."
ALW winners from previous years told the audience at the event, organised by NIACE and the Institute for Learning (IfL), how their tutors had inspired them.
Cheryl Powell, a former drug addict who won 2012 outstanding learner for the South West, praised her tutor Steve Murphy, who fought to secure her funding on The Prince's Trust team skills course.
"Steve took the time to listen to me and understand what I needed, and he did all of this without even knowing he could get me on the course," she said.
"For him to do that, and to believe in me, was a wonderful feeling and made me want to push more."
Cheryl now works alongside Steve as a manager and trainer at the trust.
Steve said: "I saw Cheryl and thought, if we don't intervene, who else is going to do it? I knew we could really make a difference."
Lorraine Pearson, the 2011 London outstanding learner award winner, said that Sally Burridge and Daphne Carnegy, her tutors at City and Islington College,  had made a difference in the early stages of her return to learning as an adult.
"I felt I didn't belong there until Sally made me feel that I did," she said.
Lorraine initially enrolled on a forensics course, followed by a psychology and social anthropology course, before taking up ceramics as a way of relaxing.
Inspired by her tutors, she has bought a kiln to set up a social enterprise.
"I want to do work in the community, encouraging people who are like I was to… follow in my footsteps," Lorraine said.
Army chef Herbert Goredema, who won the foundation degree award in 2010, also plans to start up a business after studying long distance with Westminster Kingsway College.
He is now facing redundancy and hopes to use his pay-off to start a contract catering business.
"My tutor Clare Mannall and her team spent a long time building up my confidence, from the foundation degree right up to my masters," he said.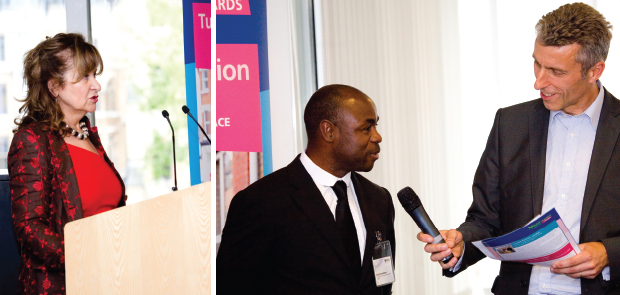 Baroness Helena Kennedy                     Army Chief Herbert Goredema talks to David Hughes
Outstanding learner of the year 2009, Frank Harris, who began training as a counsellor after spending years moving between prison, homelessness and addiction, struggled to find the right words to express his gratitude to his tutor Lucy Robson.
"I've never had a chance to thank Lucy for seeing a little bit of a light in me and encouraging me," he said.
"My life's been transformed because of Lucy. I can be a proper grandfather and a father and a brother now — Lucy, I'm really honoured to know you."
Lucy echoed the humility of many of the tutors at the event.  "We just met Frank at the right moment," she said.
"I think teachers are modest because it's so enjoyable. We don't want to take credit for such a nice job where you get to meet such great people."
In her inaugural speech as patron of the IfL, Baroness Helena Kennedy told the ceremony: "What [tutors] are all doing is transforming lives, and it's truly inspirational.
"Teachers are really doing wonderful things across our society, giving people second chances, helping them to develop themselves."
Featured image caption: Steve Murphy and Cheryl Powell with Niace chief executive David Hughes