This year's City Lit awards saw more than 30 adult learners receive recognition for their accomplishments. Chris Henwood went along to find out more
Dozens of adult learners enjoyed a touch of Hollywood glamour as they collected prizes at an annual awards bash in London.
Gillian Anderson, who played FBI special agent Dana Scully in The X-Files, dished out certificates at the City Lit ceremony.
She said: "I get asked to do a fair number of these sort of events throughout the year, but based on my schedule and a very real fear of public speaking, I generally respond with a polite 'no'.
"But when I was asked if I would consider this event I started to look through the breakdown of what City Lit does and the lives that it impacts and I thought most certainly this was one event I should attend.
"And being here, hearing how City Lit has extended opportunities to people, I'm overwhelmed — it's an extraordinary gift to the community."
More than 30 awards were handed over, including two special presentations to two 'outstanding learners' picked by the national Adult Learners' Week judging panel.
Learning for adults can and does change lives for the better"
One of these winners was 45-year-old Usman Choudhry, who has overcome a stammer having taken a number of speech therapy courses.
"Since attending courses in areas such as assertiveness and public speaking, I have helped set up a public speaking group aimed at stammerers, arranged an awareness-raising course for staff at the bank, raised money for the British Stammering Association, and helped organise their London open day in 2012," he said.
"With the help of my fellow City Lit students, we have given people who stammer the confidence to speak out and be heard."
Rachel Everard, City Lit speech and language therapy coordinator, said: "Usman first attended in 1985 as a 17-year-old and as the result of this life-changing course, started a successful career at the Bank of England.
"Over the intervening years he has returned to City Lit for various different courses and it has been my pleasure to get to know Usman and see him develop into a highly articulate, self-motivated person, full of energy and purpose striving to improve the lives of others who stammer."
And Jason Putman, 39, received the other 'outstanding' learner award. He had been homeless for more than 20 years, before studying for a level two certificate supporting vulnerable people.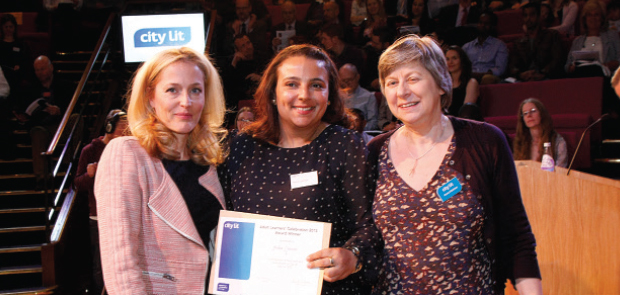 Gillian Anderson presents Fadua Laaouiti a City Lit adult learner award. Also pictured is City Lit Fresh Horizons programme manager Anne Hartree. Picture courtesy of City Lit
"I was so fearful when I arrived that I nearly didn't walk through the door," said Jason.
"But I'm so happy now that I did. By the end, I had a qualification, experience, confidence and, most importantly, a job."
He added: "I've been able to transform all that negative life experience into something positive."
Wendy McKaig, head of programme for community projects, said: "Jason was one of the students who could be a complete nightmare and an inspiration in the space of half an hour — he was exhausting and invigorating in equal measure.
"But he was definitely worth the effort, because what really shone through was a real motivation to learn and improve; a passion to work with homeless and vulnerable people."
Left: City Lit principal Mark Malcomson speaking at the ceremony and Jason Putman accepting his award from Gillian Anderson
Among the evening's other learners to come in for praise, having been nominated for the outstanding student gongs, was grandfather James Anderson, 66, who has studied Italian, Spanish and French at City Lit having left school more than half a century ago with no certificates.
Also recognised were 26-year-old Aimee Stein, who battled personal health issues with fatigue as she achieved a distinction in her City & Guilds qualification in structured jewellery, and Fadua Laaouiti, 34. She balanced single-handedly raising three children while doing GCSEs and then an access course in pursuit of her dream to become a teacher.
City Lit principal Mark Malcomson said: "Learning for adults can and does change lives for the better, and hopefully this evening shows that through our award winners. Learning can be inspiring and challenging, but it can also be fun and that's something we at City Lit hope permeates through."
The awards took place at Mayfair's Royal Institution of Great Britain on Wednesday, May 1.
Featured image caption: Gillian Anderson presents Aimee Stein her City Lit adult learner award. Also pictured is Aimee's tutor, Joanne Haywood. Picture courtesy of City Lit