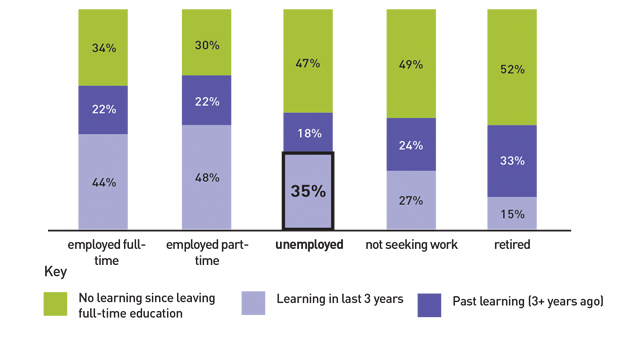 The chief executive of NIACE has said some of the results of the 2012 Adult Participation in Learning Survey "paint a very worrying picture".
The survey showed the proportion of unemployed adults learning had fallen by six percentage points from 41 to 35 per cent since last year (highlighted below), the lowest level since the survey began in 1996.
It also showed a seven per cent fall in the proportion of young people aged 17 to 24 taking part in learning.
NIACE chief executive David Hughes (pictured) said: "Obviously for a survey like this all you get is bald statistics and you have to speculate as to why.
"This could be a sign that some unemployed young people and adults are becoming hopeless about their prospects to get proper, sustainable work, and think it's not worth getting skills because they'll never get jobs, even with skills, that will be fulfilling, rewarding and pay them enough to live well," he said.
"I'm not saying I know the reasons for these figures, but if you start thinking about it, you paint a very worrying picture at the very least."
Paul Warner, director of employment and skills at the Association of Employment and Learning Providers (AELP), agreed the drop in unemployed people learning was "concerning".
"It's why we support real flexibility within the adult skills budget for providers to offer skills training to the unemployed, despite the pressure on budgets," he said.
"Providers across the country are making strenuous efforts to join up their skills and employability provision and it's important that the funding system doesn't discourage this."
The AELP has previously expressed disappointment that traineeships would not be on offer to 19 to 24 year olds, arguing the programme could act as a stepping stone to lifelong learning.
Mr Hughes agreed there could be a benefit to extending traineeships to up to the age of 24, or even beyond.
"There are older adults, particularly in a position where they haven't got much work experience or their job prospects are in a different sector to their previous experience, and it seems very logical to give them work experience in a sector where there are jobs," he said.
"Used in a targeted way it could be quite powerful in helping them get motivated and to think about the skills they might need to think about getting a job in that sector."
He added that enabling those on traineeships to receive benefits or wages would encourage them to access learning in this way.
The Association of Colleges (AoC) joined calls for traineeships to be extended to adults, but pointed out that its own survey, published in April, showed on average 82 per cent of colleges saw the number of unemployed students increase in 2011/12 and 75 per cent anticipated a further increase this year.
Julian Gravatt, AoC assistant chief executive, acknowledged the two surveys had been measuring different things, with NIACE taking account of self-supported, as well as government-funded learning.
"The fact that participation by unemployed people is down is probably a sign of the pressure they are now under to find work," he said.
He said the AoC's findings reflected colleges' efforts to engage with and design programmes for the unemployed.
"Colleges are keen to do more for unemployed adults and look forward to the point where they can use traineeships for young adults to support these efforts," he added.
Mr Hughes added the problem was not solely up to the government to solve.
He said: "We are also calling on employers to play their part in this.
"We genuinely think employers need to do more to offer and provide meaningful work experience and that's going to be a major part of the solution."
Graph caption: Participation in learning by employment status, 2013 – "Since 2012, there has been a substantial increase in the proportion of part-time workers who are taking part in learning (from 42% to 48%) while the proportion of unemployed adults learning has fallen from 41 to 35 per cent."