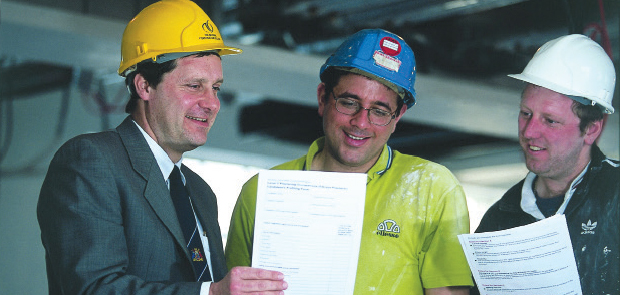 Paul Cano-Lopez won an individual learner award in 2001, and since then has completed two masters' degrees and now runs his own successful training company.
At 28 Paul, from Essex, was diagnosed with arthritis in his hands and arms, making it difficult for him to continue in his job as a plasterer, so in 1990 he decided to go to Chelmsford College to train for a Chartered Institute of Building (CIB) site manager qualification.
He said: "At first it was difficult to get back into it, probably the first six weeks were quite hard, your brain's not open for it and you do feel like the class idiot.
"Part of it was that I was older than a lot of the people in the group — I was nearly 30 and they were 20 and their knowledge was different to mine.
"My knowledge had come from working on sites, whereas theirs had come through the college system, but after a few weeks I realised I did know a bit more than I originally thought."
The first set of exams, he recalled, were difficult.
"I hadn't passed any exams before so that was a bit scary, and they were make or break really. I thought 'If I don't pass these exams that'll be the end of it', but I did and it went on from there," he said.
When he completed the course, Paul became an associate member of the CIB and decided to become a full member by enrolling on a degree in building at Chelmsford College, which he was awarded in 1999.
He then took an MSc in construction management through distance learning, which he was working on when he won his award.
"I did a speech at the national ceremony in London which was nice because it was good to get up and tell people about my history," he said.
The following year he set up Cano Training Services, an NVQ centre which trains people in the building industry to become assessors.
Now 52 and a father of two, Paul said education had changed his life.
"I'm definitely more confident now. The main thing I've got from is it not feeling I have to prove anything to anyone — I know what I can do and what my weaknesses are and I don't feel pressured into anything I don't need to do," he said.
"Also home life is easier because you haven't got the stress. I run my own business and I wouldn't have what I've got now if I hadn't been involved in the learning."
His own experience with further education inspired him to find out more about education and how people learn.
He started a PhD on learning in industrial settings, which he later converted into a M.Phil and graduated from in 2007, as well as completing a postgraduate certificate in education as part of his research.
"I'm keen to pass the benefits of learning on to others," he said.
"From my own experience and
research I found people working in a construction environment don't really want to come in a do a lot of reading straight away, it's just not what they do,
so you have to work it round a different way to make learning relevant to their work and a bit of fun as well, rather than just 'back to school', which what they perceive it to be.
"It's breaking down the barriers, that's what we work on as a company, to be able to get people back into education more comfortably."
Featured image caption: Paul Cano-Lopez managing a construction project in 2001