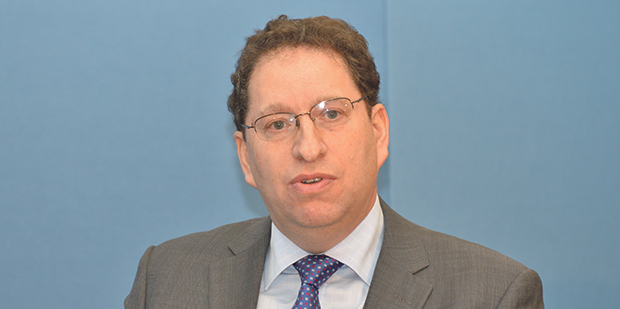 The incoming chief executive of the Association of Employment and Learning Providers has told how apprenticeships will be at the top of his agenda.
Stewart Segal (pictured) takes over from Graham Hoyle OBE in three months having impressed association bosses who interviewed more than 50 candidates for the job.
Mr Segal has experience of the FE sector, where he counts funding issues among his areas of expertise, having already worked with the association for a number of years. He was also chief executive of national training provider Spring Skills and Hertfordshire Training and Enterprise Council.
The married father-of-two has also worked with the Learning and Skills Improvement Service and the Skills Funding Agency and Education Funding Agency, serving on a number of advisory groups.
And apprenticeships were top of his 'to-do' list for the new job, he told FE Week, in his first interview after being appointed.
"We need to take the apprenticeship programme on at a time when budgets are pretty tight and funding is under pressure," said 56-year-old Mr Segal, from Maidenhead, Berkshire.
"We need to ensure the programme is transparent and open and has a great deal of engagement with employers."
He added: "We know that there is pressure on government funding, but we are now seeing an apprenticeship programme that is getting the recognition and credibility that it deserves.
"These major improvements have been delivered by effective professional training providers responding to employer and learner needs. That is what will drive even further improvements in the sector."
Traineeships, a new skills funding system, study programmes, work programme challenges and the need to respond to a number of recent reviews will also figure in his new chief executive agenda.
"This is a challenging agenda but I am very confident that the association and its members will have a vital role to play if we are to create an even stronger skills agenda that supports economic growth in the UK and gets more people back into work," said Mr Segal.
He said he was "delighted" with his appointment and said he had a keen interest on working on the development FE Guild.
"The FE Guild is a great opportunity for the sector to take more ownership of professionalism and quality of delivery," he said.
"It will be an important part of establishing the credibility of the sector. I'm sure I will continue to support the development of the guild.
"Hopefully, I'll build on the programme that's been set out already so that all training providers can develop in their professionalism. This will help the status of vocational learning."
Association chairman Martin Dunford OBE said: "Stewart has extensive experience of direct delivery of training as well as his knowledge of the policymaking roles of the key stakeholders. This is a challenging time for training providers with reducing budgets and a range of reviews and recommendations on the future of skills funding while the effectiveness of the work programme is also under scrutiny.
"Stewart has been involved in the major improvements made in the sector in terms of responsiveness and quality and we know he will take that agenda forward.
"We have an important role to play in shaping the skills and employment agenda for the future and Stewart will work with our partners to ensure that we remain focused on delivering high quality training provision to employers and learners."
Mr Segal is expected to speak at the association's national conference, which takes place in London on June 10 and 11.