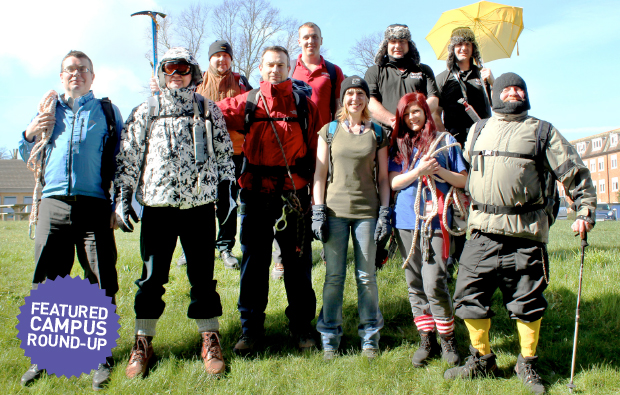 A four-storey staircase will become Mt Everest for a day this month at Canterbury College. Rebecca Cooney
explains why
A team of Canterbury College staff is planning to climb the height of Mt Everest  — without leaving the college.
The 13 members of the college's estate team, led by estate manager Craig Nimmo, will go up and down a four-storey staircase 737 times, which adds up to 8,848m — the height of the world's tallest mountain. The aim is to raise money for Macmillan Cancer Support.
Craig's father, David, an ex-soldier in the Gordon Highlanders, died of lung cancer aged 67.
Craig, 39, said: "My dad was looked after by Macmillan, which is our charity this year at the college . . .  suffering with cancer's not easy, so I thought let's do a challenge that's not easy."
The "climb", which will be completed in full mountaineering gear with backpacks, ice axes and rope, will take place on Wednesday, May 29, the 60th anniversary of the first successful ascent by Edmund Hillary and Tenzing Norgay.
Craig's love of mountaineering gave him the idea for the challenge.
"I've been inspired by Hillary and Tenzing — and the people before and after them — and I've been to base camp myself. I'm a bit of an Everest nut," he said.
As a teenager in the army cadets, Craig was chosen to climb Pisang peak in the Himalayas.
"I was a 17-year-old from Norfolk, which is not completely flat but hasn't really got any hills or mountains. To go from there to the Himalayas in one go blew me away — and I've been hooked ever since," he said.
Over the years, he's attempted to climb Mt Blanc, has climbed in the Alps and the Pyrenees, and still has dreams of making it to the top of Everest.
His brother Jamie went with him to Everest base camp. "My dad said to me, 'I can't come with you but I'll be in your rucksack', and luckily enough he was alive when we went," said Craig.
Despite people telling him that he was "mad" to re-create the climb on a 12m staircase, many staff were keen to take part.
Day cleaner Lyn Tomkins, 45, also lost her father to cancer. "He was supported by Macmillan and, more poignantly, his birthday was on May 29," she said.
"He passed away just three years ago and I want to do this in his memory."
Security officer Colin Davis, 34, said: "My father-in-law is suffering with prostate cancer and I'm keen to raise money for this great cause."
The conditions may not be as demanding as the real thing, but Craig and his team have been taking their training seriously.
"We'll be doing it without the view, so I think, dare I say it, it's going to be quite boring, just going up the stairs looking at our feet, however I think we all realise why we're doing it," said Craig.
"We're not doing it because it's there, as George Mallory said when he was asked why he chose to climb Everest, we're doing it for people we've lost.
"For me, it's trying to give something back to the people who looked after my dad in his last moments and I'm sure each team member will be thinking of someone they've lost to cancer, or thinking how they can help those who suffer with cancer."
The team hope to raise at least £884.80 — 10p for every metre. Visit www.justgiving.com/teams/canterburycollege to sponsor the team.
Featured image caption: Craig Nimmo (front red jacket), Lyn Tomkin (in green t-shirt) and Colin Davis (back, holding the yellow umbrella) with members of the team preparing for their 'ascent'.