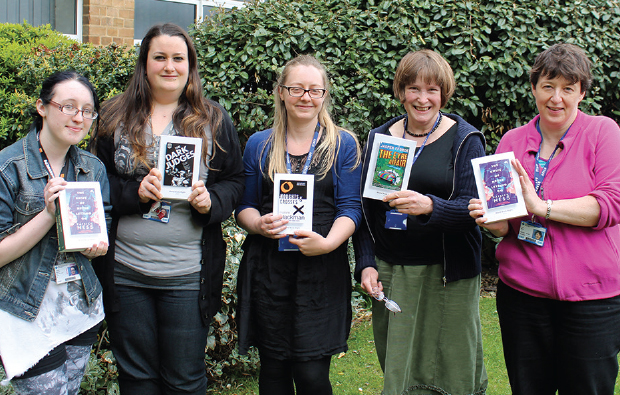 Staff at a London college gave away free copies of their favourite books to mark World Book Night.
Richmond upon Thames College library staff Helen Berry, Melanie Jones and Patricia Nicholls,  with  Cait Orton of student services, joined 20,000 others across the UK and Ireland as nominated 'book givers' who were sent free copies of their favourite book to give away.
"World Book Night is about sharing great works of literature and giving people the chance to read books they may not ordinarily be exposed to," said Cait.
"The students here were really keen to become involved in the scheme and I'm hopeful that they will continue to pass the books on to friends and family to enjoy in the future."
The staff chose The Eyre Affair by Jasper Fforde, Noughts and Crosses by Malorie Blackman, The Knife of Never Letting Go by Patrick Ness and Judge Dredd: The Dark Judges by John Wagner.
Featured image caption: International baccalaureate student Jordan Graham, 17, displays her free book alongside college staff  members and World Book Day donators Cait Orton, Melanie Jones, Patricia Nicholls and Helen Berry