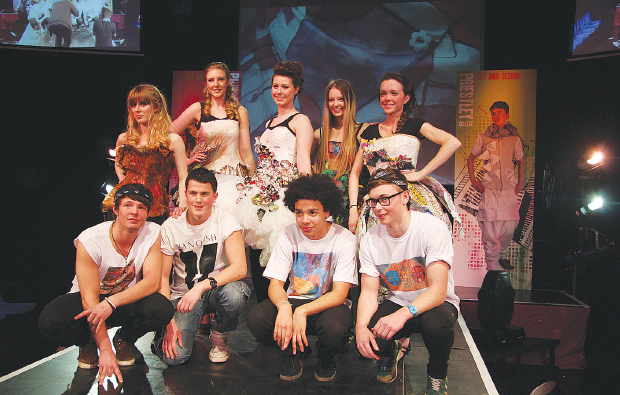 Young designers in Cheshire raised eyebrows and money for charity when their work was shown at their college's annual catwalk show.
Volunteer models wore creations by A-level textile and BTec art and design students at Priestley College, with all entry fees donated to the Teenage Cancer Trust and the college's education fund.
Tutor Emma Lingard said: "All the pieces were experimental, but we encourage that at this stage because it is a good time for the students to be learning about materials and different techniques."
Inspired by themes such as memories, organic structures, the urban environment, architecture and recycling, students used traditional methods and materials alongside some more unusual ones such as plastic, wood, wire and paper.
At the end of the show, Sian Day of the Teenage Cancer Trust talked about its work to build specialist hospital units for young people with cancer.
Featured image caption: Volunteer models, back row, from left: Hannah Broadbent, 16, Gemma Irvine, 18, Natalie Hassall, Lauren Muir, both 17 and Alicia Blackwell Edwards, 19. Front row: Alan Dodd, Lloyd Jones, both 17 , Dominic Saulte, Joe Thomas, both 18