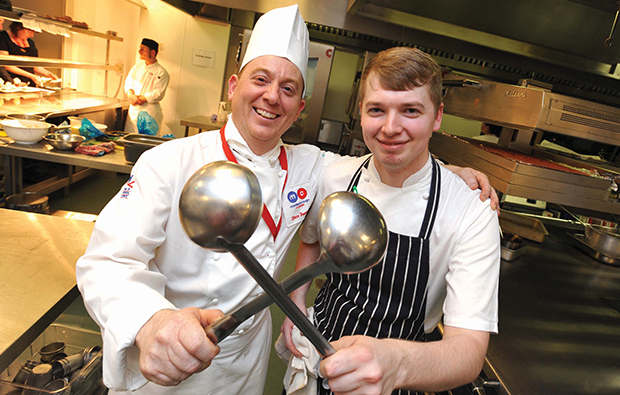 Middlesbrough College students were part of a head-to-head cook-off between their lecturer and a former student.
The level three professional cookery students were split into teams working for tutor Steve Donnison and Matty Beadnall, now a sous chef at Rockliffe Hall.
More than 30 diners at the college's training restaurant chose between a menu prepared by Matty's team and one prepared by Steve's.
Matty said it was a pleasure to work alongside his old tutor again. "I've thoroughly enjoyed it — and the students stepped up," he said.
Diners were asked to award points out of 10 for the meal's flavour and presentation without knowing who had cooked it — and Steve's team just managed to win.
He said Matty had inspired students to realise that they too could achieve their ambitions.
"We are looking at the possibility of Matty returning to Middlesbrough and delivering skills workshops to the students," he added.
Featured image caption: Chef lecturer Steve Donnison and former student Matty Beadnall