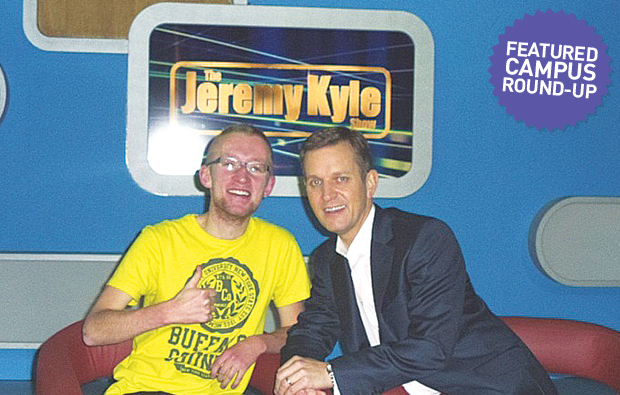 Jake Beattie had three things on his wish list – including his own camera. Rebecca Cooney reports on how Hopwood Hall College helped to make the seriously ill student's dreams come true
A seriously ill art and design learner from Manchester was lost for words when his college made his wish list a reality.
Jake Beattie, 19, from Heywood, has been a supported learner at Hopwood Hall College since 2010.
He has a short life expectancy as he suffers from pulmonary hypertension, a condition that will eventually cause heart failure.
During his recovery after a major health setback in 2011, Jake asked the college's senior learning mentor Harriet Herdman to visit him with work, as he was frightened of falling behind.
During this visit he told her his three greatest wishes — to meet his hero, TV presenter Jeremy Kyle, to do some charity work and to have a camera of his own so that he could develop his passion for photography.
Harriet decided to see what the college could do to make Jake's wishes come true, and in February last year organised for Jake to watch filming of The Jeremy Kyle Show — and to meet the host backstage.
It then went on to wishes two and three, first by organising a fundraising event in aid of the Pulmonary Hypertension Association.
Jake's fellow art students made jewellery, cups and bookmarks that were sold on a stall manned by Jake and learning support staff, while games groups donated games and ran a competition, and college staff contributed by donating gifts for a tombola.
The event, which ran alongside the end of year art exhibition, raised just over £365.
Some of the money was used to grant Jake's third wish, a Samsung WB150 camera with a memory stick and case.
"I am studying media and photography is part of my course," said Jake. "I've had to borrow a camera from my tutor but won't need to do that anymore.
"Photography is one of my passions but my condition means that I find it hard to get out a lot.
"Now, when I'm unable to go out, I can look back on all the photos I've taken.  Photos really capture special moments in life."
The rest of the money was given to the Pulmonary Hypertension Association.
A spokesperson for the association said: "We'd like to thank Jake for fundraising on our behalf.
"His generosity will help in our fight to defeat this terrible disease and enrich the quality of life of all those affected."
The presentation of the camera and cheque for charity had to be delayed after Jake suffered another setback, but he said later that it was all "definitely worth the wait".
The director of information and support services at Hopwood Hall College, Luke Goodlet, said it was the first time he'd ever seen Jake lost for words.