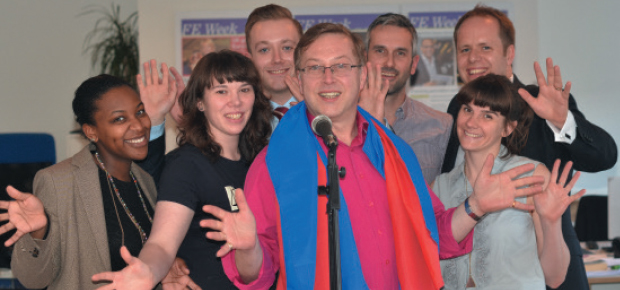 The Association of Colleges took FE by storm over Easter with its 'plans' for an anthem and a flag to raise the sector's profile. The great and good even got involved with Skills Minister Matthew Hancock tweeting words of support.
With a professional London-based media company, an Ivor Novello award-winning songwriter and former 4 Poofs and a Piano singer on board, the project looked set for success.
Especially with praise from David Hughes, the National Institute of Adult Continuing Education's chief executive, who said the campaign would "surely give us [FE] parity of esteem with higher education and schools".
Ian Parkin, former member of Jonathon Ross Show house band 4 Poofs and a Piano, works in our office"
At the time of going to press, the online story had attracted 3,245 hits with the track played 944 times. It had also been retweeted numerous times by FE Week's Twitter followers.
Except, of course, the campaign, with lyrics, a recording and production photos, not to mention a red and blue flag, appeared on the FE Week website on April 1. Need we say more?
So, how did we manage this April Fool's fun, the brainchild of FE Week editor Nick Linford?
The flag
Association chief executive Martin Doel backed us up – and put his face to the story when he agreed to be pictured holding the FE flag with Nick.
But look carefully and you'll see it was the Cambodian flag with a picture of a mountain superimposed on top. Look even more carefully and you'll recognise the mountain as the one on the front of our recent leadership and governance supplement.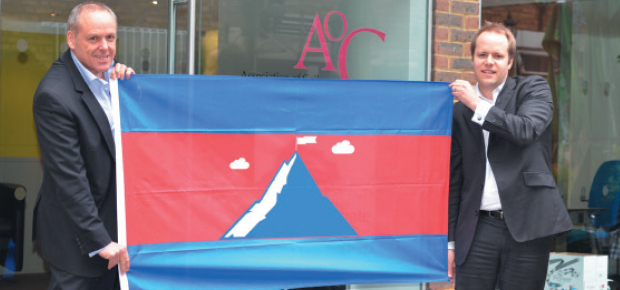 Martin Doel, AoC chief executive and Nick Linford, editor of FE Week posing with the mock flag
The song
Having persuaded Martin to play along, Nick  asked me to become a songwriter. One slight problem: the closest thing to musical ability I have ever displayed was playing five notes on the recorder aged 10 — and I'm fairly sure they weren't the right five notes — so I quickly decided that I'd have to adapt an existing track.
Unfortunately for S Club 7, after toying with M People's Search for the Hero and Wheatus' Teenage Dirtbag, I picked their 2000 song, Reach.
Pink Salmon Media is fictional, albeit a play on red herring, but Bob the Builder composer Paul K Joyce is a friend who let us sully his good name.
The recording
With the lyrics written and an article penned by deputy editor Chris Henwood, the FE Week team was cajoled to sing a short demo for the website. We laughed.  Until we realised that Nick wasn't joking.
Fortunately, FE Week readers were spared by a quick-thinking team member who remembered that Ian Parkin, a former member of the Jonathan Ross Show house band 4 Poofs and a Piano, works in our office building between his music engagements.
An unfazed Ian, professional to the core, gave a flawless performance of Reach for the College and posed with headphones and a microphone, transforming the office into a studio.
The rest of us became backing singers – although I bet you'd never have guessed we were amateurs, so tuneful was our performance.
Operations manager Shane Mann worked his iPad magic to layer the recordings on top of each other and hey presto, we were done.
So, now that fact is separated from fiction, we'd like to thank everyone who took part, including our Twitter followers and web visitors for their knowing, and sometimes not-so-knowing, comments.


Featured caption image: Singer Ian Parkin (centre) pictured with FE Week team members, from left: Chardelle Mason, Rebecca Cooney, Shane Mann, Chris Henwood, Nick Linford and Eleanor Radford