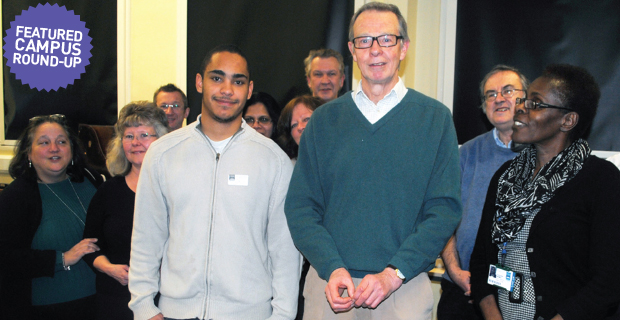 Charlie Carter joined Newham College in 1972. Forty years on and he's retiring (for the second time). Rebecca Cooney reports
An A-level maths tutor in East London has retired after 40 years in the same college.
Charlie Carter, 71, from Wanstead, said goodbye to staff and students at a special event at Newham College, where he has taught since 1972.
Mr Carter, who estimated that he must have tutored around 4,000 students during his career, said three things had helped to make his long service enjoyable.
"First, I like A-level maths — you have to like your subject — and I've been very lucky with my students and my immediate colleagues in the staffroom," he said.
"Those things made the difference; that's why I stayed so long: I really like the place."
At the farewell event, his colleagues praised his ability to encourage students.
Campus executive director, Conchita Henry told him: "You're someone who knows his craft. The result of your last year was wonderful with a 100 per cent pass rate. Students said they got through their A–levels because of you."
She thanked him on behalf of all the students and tutors who had relied on him and said she was sorry the college would no longer have him.
"Tutors should have dedication and skills but what Charlie has is out of this world. No one can remember you having a day off since you started here."
His dedication was so strong that staff recalled that he once turned up after a lorry had knocked him off his bike en route.
Mr Carter said: "I was a keen teacher – I enjoyed teaching, therefore I had a good attendance record.
"Whatever happened, I felt a responsibility to get there. The students were going to turn up and I felt bad if I didn't."
Staff also remembered three former studentsinspired by him who had nicknamed themselves 'Charlie's angels'.
Former student Lamon French, 20, wished Mr Carter a happy retirement and thanked him for helping him to go on to study economics at the University of East Anglia.
"I came to Newham with a C in maths but wanted to go to university. It was down to Charlie's support that I got an A and did that," said Mr French.
Mr Carter first 'retired' in 2008, aged 66, but continued to teach part-time, doing "0.6 of the same job", as he put it, until this year.
He has seen a number of changes in teaching since arriving at what was then East Ham College of Technology.
He said: "We had no photocopiers then, so we had to handwrite handouts on a carbon backing and try to duplicate them. It was crude, slow and hard work – and it didn't last long. You had to do it again the next year and the next."
Although the internet and smartboards had made a difference, he said, teaching styles had also changed.
"There's more of an interest in the individual rather than the whole class, so teaching techniques have changed a lot, They're more effective now," said Mr Carter.
"As an A-level teacher you're given more information. At that time the marking schemes were all top secret; now they're all public knowledge and there's loads of past papers on the internet. There's much more in the way of resources."
He said that he planned to spend more time reading, gardening on his allotment and "taking it easy".
"I have been blessed to have worked here for so long and I thank all my former students and colleagues for the support and friendship they have shown me," added Mr Carter.
Featured image caption: From left: former student, Lamon French, 20, Charlie Parker and director Conchita Henry at the event to thank Charlie for his service