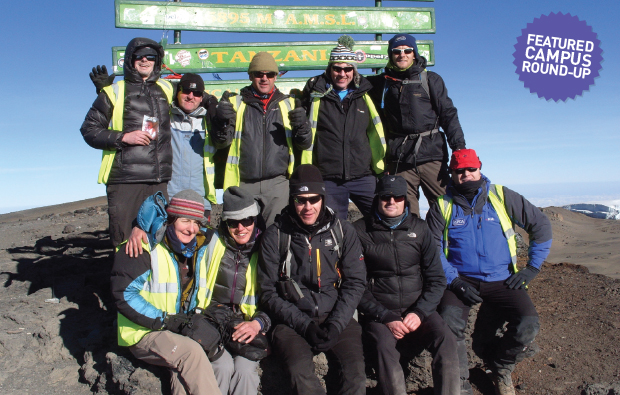 A Stourbridge lecturer tells Chris Henwood why he decided to climb Mt Kilimanjaro – and why his successful ascent wasn't as celebratory as he thought it might be
Midland lecturer Steve Woollock was prepared for a gruelling trek up Mt Kilimanjaro. What he wasn't prepared for was the death of a fellow climber.
The fatality happened as 41-year-old Steve reached the summit — 5,895m above sea level — leaving him with mixed emotions.
"It was awful. He collapsed two or three hours into the last day," said Steve, a carpentry and joinery lecturer at Stourbridge College.
"I passed him as they were trying to bring him back to life. I didn't know him, but I'd spoken to him briefly earlier in the trip. There were 30 of us in the group but, like me, he was doing it by himself.
"He died due to altitude sickness so getting to the summit was a mixture of sadness and celebration. It was very subdued."
The Tanzanian adventure, between February 22 and March 3, helped Steve, who has been at Stourbridge College for around seven years, raise £4,000 for Prostate Cancer UK.
However, it also took him away from his 41-year-old girlfriend, Becca Knowles — whose father, David, died of prostate cancer three years ago — and their six-month-old daughter, Daisy.
"It was tough leaving Daisy," he said.
"I took a picture of her with me. I wanted her to be with me at the top."
Steve, who is on paternity leave until June, added: "As I approach the age when men are diagnosed with the disease, it seemed fitting that I do something to help cure and care for those suffering with prostate cancer.
"Becca's father died of prostate cancer and she's got a few friends whose fathers have also died from it.
"I work in construction, which is quite male-dominated, and spend a lot of time with students, so I thought it was important to raise awareness about the disease."
Steve said his aim was to raise £4,000 through a variety of small events in the run-up to the climb. He was "really pleased" to have achieved both goals.
"The ascent was a lot tougher than I thought it would be, with six days of between six and 14 hours of constant trekking uphill," he said.
"I'd like to thank everyone who supported me in my efforts, including staff and students at Stourbridge."
And fundraising for Prostate Cancer UK looks unlikely to stop at Mt Kilimanjaro for the adventure sports fan from Sutton Coldfield, near Birmingham.
"I'd like to climb the Old Man of Hoy sea stack in Scotland for charity next," said Steve.