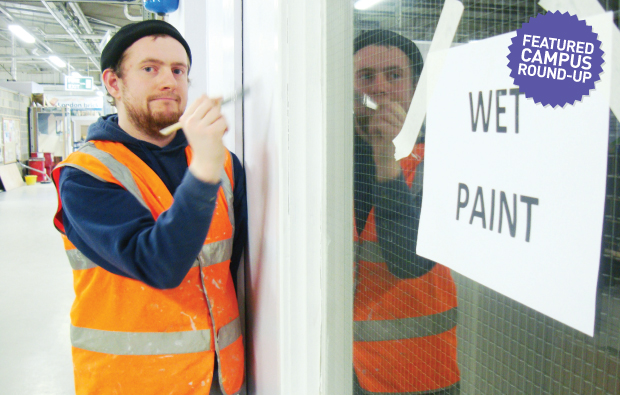 A student with autism is inspiring students and staff at Weston College, reports Rebecca Cooney
When Nick Youde came to Weston College at 16, he was seeking help to manage his autism. Six years later and he is a valued member of staff.
Nick, who hails from Nailsea, was originally on a two-year extension studies course to develop his basic skills in English, maths and other subjects with a vocational focus.
He soon discovered a talent and aptitude for carpentry, and decided to enrol on a level one diploma course in carpentry and joinery.
He moved on to a level two diploma course in site carpentry and, eventually, a level three diploma joinery course.
Adam Bridewell, the college's maintenance operations technician, said: "Nick has had quite a journey.
"When he started the construction course, his autism was something different for his peers. But by working with the specialist support at the college, it has been a good experience for both Nick and his classmates."
Nick said: "As long as there is demand for my work here – which there is – I'm very happy.
"I came to Weston College when I was 16 and I've never left. It's a great place to be."
In September last year he decided to broaden his skills by enrolling on a level two diploma course in maintenance operations.
His positive attitude and determination to succeed impressed his tutors at the college's Construction and Engineering Centre of Excellence (CECE) so much that, when an opportunity came up for an apprenticeship with the college, he was advised to apply.
He began his new role in January this year. Lead lecturer in maintenance operations Shaun Canniford said: "We felt he would benefit tremendously from some work experience and an apprenticeship seemed the ideal route.
"He is doing very well and he has quickly become a valuable and inspirational member of college personnel. His development has been nothing short of phenomenal."
As well as providing general maintenance cover around the CECE, and acting as an informal mentor to students on various CECE courses, the 23-year-old has tackled painting and decorating, and brickwork and plastering, skills that will supplement his expertise as a carpenter.
He said: "My autism has its challenges. I'm probably not the speediest person here but you don't get points for being speedy in this job and I am very thorough in everything I do."
Nick's apprenticeship will last for two years.
"After that, and if I play my cards right, I'm hoping I will be given a permanent job with Weston College," he said.
"Nothing would please me more. I'm happy here and I feel safe, which is important."