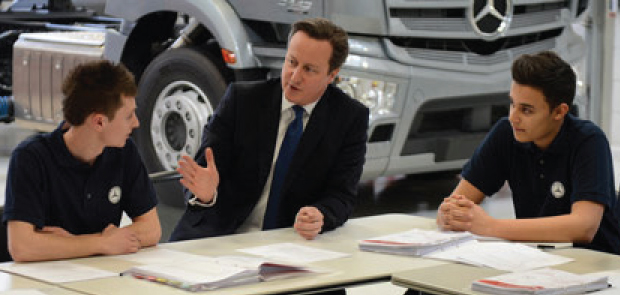 The Prime Minister wants apprenticeships to become the "new norm for young people," with work-based training sitting "at the heart of our mission to rebuild the economy".
Speaking at a Buckinghamshire training academy during the sixth National Apprenticeship Week, he called on employers, educators and MPs to expand apprenticeships for young people.
"They are at the heart of our mission to rebuild the economy, giving young people the chance to learn a trade, to build their careers, and create a truly world-class, high-skilled workforce that can compete and thrive in the fierce global race that we are in," said David Cameron.
"We need to challenge ourselves to go even further — that is why I want it to be the new norm for young people to either go to university or into an apprenticeship.
"We need to look at how we can expand apprenticeship opportunities so that they are available to all young people who are ready and eager to take them up, and aspire to get ahead in life."
Martin Doel, chief executive of Association of Colleges, said his members would "happily meet the extra demand".
"There are obviously questions around how the new expanded apprenticeships will be funded and who will take ownership of them," he said. "To that end, we will work with government to establish the best way forward."
This is a key test for ministers at a time when there are almost one million young people out of work"
Graham Hoyle, chief executive of the Association of Employment and Learning Providers (AELP), also said that his group was "ready to respond" to the government's call.
"With AELP members already delivering over 70 per cent of apprenticeships in England, independent training providers are ready to respond to the Prime Minister's call by lending their frontline expertise on how to develop, improve and increase the number of apprenticeships," he said.
He added that the AELP was pushing for at least one teacher from every secondary school to undertake work experience with a provider and go on to champion apprenticeships within their school.
Meanwhile, Shadow FE Minister Gordon Marsden argued in Parliament that public procurement funds should be used to boost apprenticeships.
"Labour has demanded the government uses the money that it already spends on public procurement to create new apprenticeship opportunities," he said.
He claimed that for every £1m spent on public procurement, at least one apprenticeship should be created.
"This sort of approach is essential to help the economy grow, if we are to compete as a country," he told MPs.
He said Sheffield City Council had identified that it could create 233 places for apprenticeships through public procurement.
"This approach has won the backing of the Business, Innovation and Skills committee and builds on what Labour did in government to ensure that apprenticeships were offered on the delivery of the Olympic Park and Crossrail, while Labour local authorities are also leading the way in using procurement to boost apprenticeships," said Mr Marsden.
"FE Minister Matthew Hancock has frequently talked of how apprenticeships are at the heart of his government's skills strategy.
"If that is indeed the case, why won't he give them a much-needed shot in the arm and back our sensible proposals to use the money government already spends to boost apprenticeship numbers?"
He said Labour leader Ed Miliband had outlined "the real difference" that the plan would make in creating 33,000 new apprenticeships.
"This is a key test for ministers at a time when there are almost one million young
people out of work and the number of apprenticeships for 16 to 18-year-olds has fallen," he added.
—————————————————————————————————————————————————————————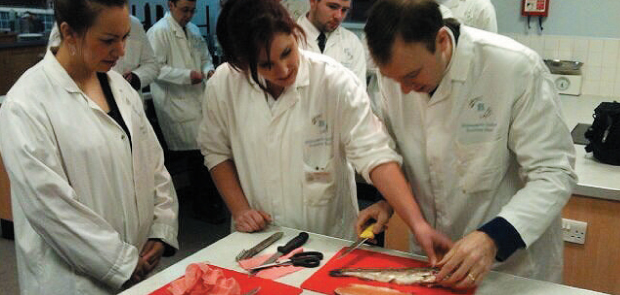 And the prize for hardest working politician this week goes to Matthew Hancock.
The FE Minister was up at 5.30am filleting fish at Billingsgate market with apprentices in East London before dashing off to take part in events throughout the day, finally making an appearance on BBC's News Night at 11.30pm.
In an effort to scale back on the fish puns FE Week just wanted to say: "Well done Mr Hancock, you reelly busted a gut during National Apprenticeship Week."