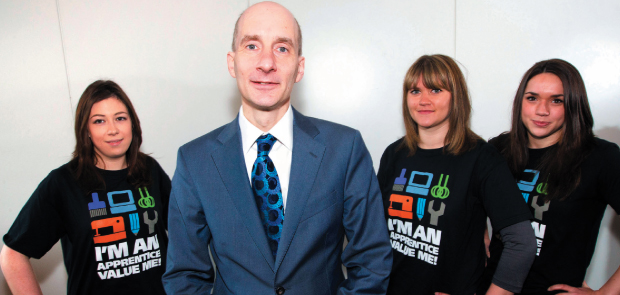 UCAS should be the "principal route" into apprenticeships to ensure they were as "accessible and credible" as universities, Lord Adonis told a packed conference.
The organisation responsible for managing applications to higher education was "up for it" if the government was, said the Labour politician, and academic during a speech at Unionlearn's annual apprenticeship conference to mark National Apprenticeship Week.
"I don't think there is a single thing that deserves more attention in this country than apprenticeships," he told delegates.
"We need a revolution in apprenticeships as we did in schools in the late 1980s. We now have a schools system of which we can be very proud — we will only have achieved this in apprenticeships when there are as many available as there are higher education places."
Young people wanted to "earn and learn" not "beg and borrow", he said, comparing the earning power of apprentices with the debts incurred by students on university courses.
His message to the government was clear — that it should lead by example.
"In the whole time I was in government I don't recall ever having an under 21-year-old working for me. The jobs didn't require graduate skills, so what was happening," said Lord Adonis
Last year, half of 16 government departments had no apprentices and, of those that did, none was under 21. The Department of Business, Innovation and Skills had just one apprentice.
He urged the civil service to create more apprenticeship opportunities, adding that of about 800,000 school leavers, on average 300,000 went on to university, with just 129,000 taking up apprenticeships [last year], leaving "hundreds of thousands" not going into any form of training.
"If UCAS were the apprenticeships and university route you might get people applying for both," he said.
A spokesperson for UCAS told FE Week it was  "happy to consider ways" to "add value" to the apprenticeship application process but that it had not received any request from the government to explore this.
Gila Sacks, head of the apprenticeship unit at BIS, told the conference that the government had responded "very positively" to entrepreneur Doug Richard's well-documented report into apprenticeships.
It must work to "increase awareness" of apprenticeships, although this had already started as schools now had to provide independent information, advice and guidance on careers.
She said the results of a consultation on how this was working would be reported in June and urged members of the sector to put forward their views.
Four young apprentices spoke at the event, highlighting the best bits of their vocational route.
Kirsty Downs, a business administration apprentice at St Edmundsbury Borough Council, said she had been taking a gap year and was about to start university when she was offered the training opportunity.
"They give me study time for my foundation degree. Rather than getting in debt and partying at university, I earn money and spend it on what I want while getting experience doing events organising, which I was going to study at university," the 21-year-old from Suffolk told delegates.
"I love my apprenticeship and my friends who've gone to university are jealous."
More than 800 events took place around the country throughout the sixth National Apprenticeship Week. Highlights included a job swap between FE minister Matthew Hancock and Jenny Westworth, a former BAE apprentice who now works on the final assembly line for the Typhoon aircraft at her factory near Preston, and young apprentices meeting David Cameron at No 10 to discuss workplace training.
Caption for featured picture: Lord Adonis (centre) meeting with apprentices. From left: Charlotte Appleyard, 22 Kirsty Downs and Claire Cordon, both 21