Hopefuls for a UK team place in WorldSkills 2013  have been put through their paces at two Midlands colleges 
Young people from across the UK flocked to the Midlands last weaek to show off their skills and compete for a slot in the UK team for WorldSkills 2013.
The top apprentices, learners and recently qualified skilled workers under 23 demonstrated their abilities in hairdressing, bricklaying, carpentry and more than 15 other areas at Stephenson College, in Coalville, and North Warwickshire & Hinckley College, in Nuneaton.
One competitor in each skill area will go forward to represent the UK at the international finals in Leipzig in July.
For David Thomas, training manager for the electrical installation squad, it wasn't not just the opportunity to represent the country, but skills the competitors gained that made the selection process important.
He said: "From when squad members start competing, you see them raise their game to get to national level. But international level is even higher. They end up way above their peers."
In the four-day selection event, which followed regional events last year and EuroSkills 2012, competitors were given complex and strictly timed 22-hour projects that were later judged by training managers.

From left: Confectionery and pastry: Stephen Smith, 18, and from Harpenden, Herts, is a student at Westminster Kingsway College and  Electronics: Heather Peach, 18 and from Wigan, is an apprentice training at Wigan and Leigh College and employed by MBDA UK
Training managers also acted as trainers and mentors. joinery training manager Andrew Pengelly said: "Competitors also develop in themselves through the contest, in terms of their ability to work under pressure, their problem-solving, confidence, and interpersonal skills."
Some skill areas had only one squad member, but still had to demonstrate that they could meet the standard required to get through to Leipzig.
In many cases they worked alongside hopefuls from other nations who travelled to the UK selection to give themselves and the local candidates more competition experience.
Jaine Bolton, chief operating officer for the National Apprenticeship Service (NAS), said she had seen how WorldSkills had an impact on learners at Stephenson College.
She said: "They see what's going on and they want to know more. I've seen them stand and applaud as the squad came into the college. The squad were amazed, it was a real boost for them."
"You can see how important World Skills is from the judges and training managers — these are busy professionals willing to take time out because they've seen what it does for these young people and their skill level."

Hairdressing: Hannah Clague, 21 and from Quedgeley, Gloucestershire, attends Red Edge Training Company and is employed by Reds Hair Company.
North Warwickshire & Hinckley College curriculum manager Martin Shelton said employers were enthusiastic about the benefits of WorldSkills.
He said: "Local companies have been massively supportive, whether through sponsorship or allowing their apprentices the time to come and take part. They can see the value it's adding."
Pastry chef and confectioner squad member Stephen Smith, 18, said he was certain that being on the squad would impress employers.
"Learning how to use techniques professionally has been great and it will definitely help me with getting a job," he said.
"It's too soon to say whether I'll get on to the team or not but it's all gone well so far."
The final team for Leipzig will be announced Friday, March 15.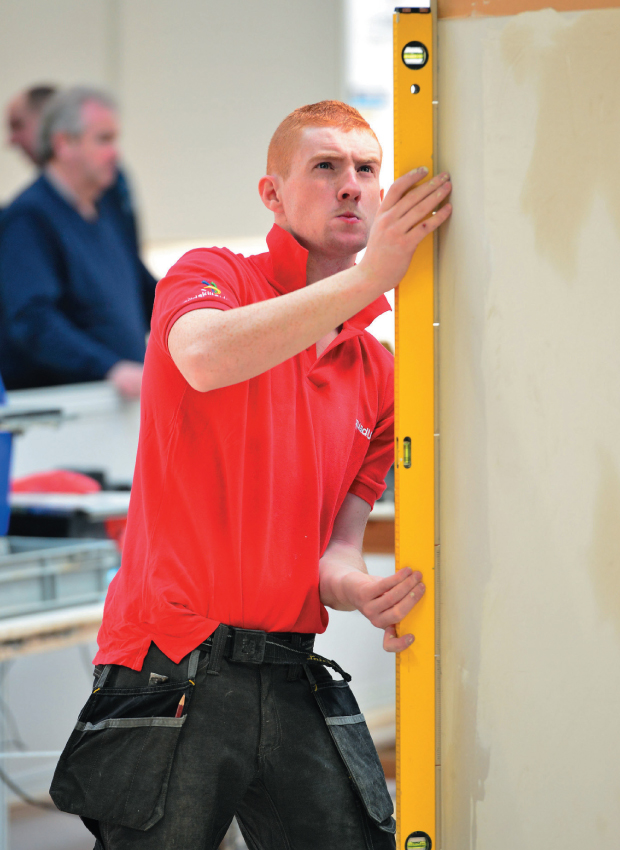 Wall and floor tiling: John Morgan, 20 and from Newry in Northern Ireland, attends Southern Regional College and is employed by Gobal Tiles and Bathrooms
Caption for featured image: Aircraft maintenance: Luke Greenaway, 22 and from Andover, in Hampshire, works at QinetiQ