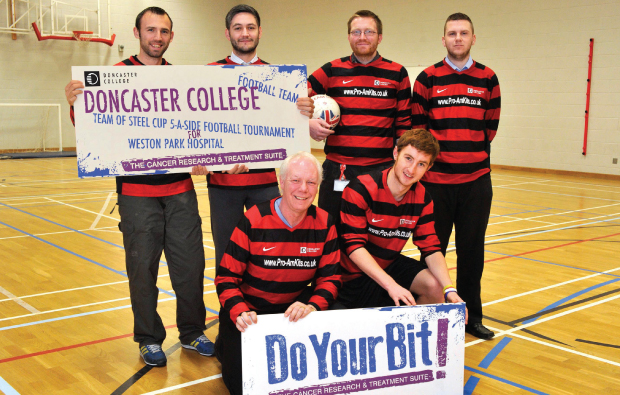 Staff and students from Doncaster have kicked off a training regime to tackle a charity five-a-side football match against former pro stars.
The Doncaster College learners and lecturers are taking part in the Team of Steel tournament organised by Weston Park Hospital Cancer Charity as part of their Do Your Bit Campaign.
The competition will see them compete against former Sheffield United FC players at the club's ground.
Tina Harrison, acting deputy director of the charity, said: "Weston Park Hospital is Doncaster's local specialist cancer hospital so it is fantastic the college is supporting the work of the charity in this way."
Team organiser and Doncaster College course leader Paul Kellaway said his previous work for Sheffield Teaching Hospitals had made him aware of the ground-breaking research done at Weston Park Hospital.
He added: "Having this prior knowledge further motivated me to become the driving force behind putting a team together for the tournament.
"My mum, Dorothy, who is now in remission, has had both surgery and chemotherapy for non–Hodgkin's lymphoma at Weston Park Hospital.
"It is time we defeated this devastating disease and its sometimes tragic consequences for patients, families and friends."