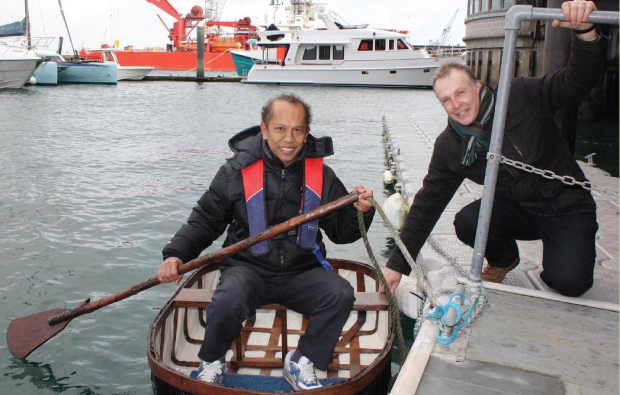 Employability skills learners in Cornwall took to the high seas to develop their teamwork, confidence and skills base by building a traditional boat.
The group of unemployed people worked as a crew over five days to build a small coracle as part of a programme run by Cornwall College's Work Skills Training Academy, Job Centre Plus and training advisor Prospects.
Learner Morwenna Collins, 34 from Falmouth, said: "I've really enjoyed the course.  At first I was very nervous as I suffer with confidence issues but the tutors are fantastic and made me feel so welcome.
"I didn't think I could do this, especially when asked to build a boat, but I really surprised myself and got involved."
The coracle made its maiden voyage across the National Maritime Museum's indoor pool, before it was allowed to set sail around Falmouth Harbour.
Miswan Sirat, 55, who has just moved to Falmouth from Penzance, said: "The course was great fun. I now feel able to do other courses to build my skills to lead into employment."
Jo Dodd, work skills training academy manager at Cornwall College, said: "Although we wouldn't expect these learners to step straight into jobs, we are furnishing them with the confidence to be able to take the next steps on their journey to employment."